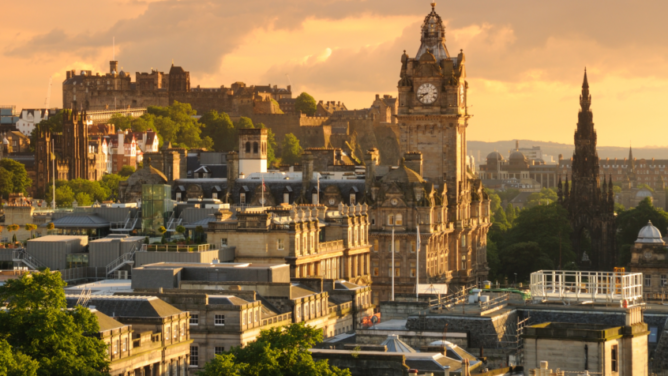 As Autumn '23 approaches and our Festival City returns to normal, many would be home movers turn their thoughts to living somewhere new by Christmastime.  The last 12 months of news headlines about property have reported turbulence, interest rate chaos, projections of tumbling prices and economic uncertainty, which could leave you thinking that this isn't the time to make that move, but contrary to the gloomy news in the mainstream media, the local market has once again proved itself to be strong and resilient to wider economic factors.
The post-pandemic market was a tricky, over heated, chaotic and stressful place for many who were trying to secure their dream home. Demand was massively outstripping supply and competitive closing dates were frequently seeing prices of 20 to 25% over Home Report value being achieved – making it nearly impossible for buyers heavily reliant on mortgage finance to secure a place to live. Whilst increased mortgage rates bring their own challenges, the jump over Home Report value has reduced and there is significantly more supply available, creating a calmer and more balanced market. Activity levels have actually been very comparable to those in 2019 – the strongest market before the pandemic that we'd had since the crash of 2008, and the slightly slower pace of the market has given Home Report values an opportunity to catch up with actual selling prices. The ESPC reported an increase of 0.4% for quarter 2 of the year, so Edinburgh property is still very much on an upward trajectory.
Why is Edinburgh such a strong property market?
Edinburgh and the Lothians offer an outstanding quality of life for those who choose live here. With more trees per capita than any other UK city, this remarkable natural landscape is complemented by some of the most breath-taking architecture in the world, with not one but two UNESCO World Heritage Sites covering the mediaeval Old Town and the impressive Georgian New Town. Added in to the mix are highly regarded schools offering excellent education and opportunities in both the private and public sector and three leading universities. We're famous for our world class festivals, entertainment and arts facilities, along with impressive sporting facilities and events.  We're a politically important capital city, we lead Scotland's industry in Tech and Banking and the rest of Europe is just a short hop away from our International Airport – all of this in a geographically small area, we're not even the biggest city in Scotland! You can understand why Edinburgh frequently tops polls of the best places to live, and projected population growth from the National Registers of Scotland shows that popularity is growing. Whilst we enjoy the beauty of being hemmed in by the Pentland Hills in one direction and the Firth of the Forth in the other, this does mean that there is a finite amount of property in central locations, and with high demand set to continue you can understand why the property market shows such resilience.
But what is happening with mortgages?
According to money.co.uk, 57.6% of UK home owner/occupiers have a mortgage or loan secured against their property. Recent mortgage market turmoil and increased interest rates have of course had an impact on the property market as homebuyers have had to reassess their finances, most notably here with the amount they are prepared to pay over Home Report value to secure a property. With many buyers looking to maximise the cash they put in to their mortgage deposit to secure the best possible interest rate, many are simply not able to pay huge amounts over Home Report value to secure a property – buyers can only mortgage against the value in the Home Report. The ESPC average paid over Home Report in 2022 was 7% , with the Q2 report this year showing that figure has reduced to 3.8%, so whilst properties here are still commanding a premium over Home Report value, it's not as high a premium as it was 12 months ago.
Whist mortgage rates are unlikely to return to the very low rates we'd enjoyed in the years leading up to the pandemic, rates have come down in recent weeks and could well stabilise over the coming months and years. As reported in Estate Agent Today, Rightmove's mortgage expert Matt Smith said: "The positive direction for rates continues this week albeit a little more slowly, with five-year rates edging down slightly more than two-year equivalent products. Swap rates are broadly flat week-on-week in response to a range of economic indicators published last week, but we should get more sense of any impact in the coming days.
"We are likely to see a continued period of stability for home-movers at least for now, and while the market remains sensitive to any surprises, it appears that lenders will continue to price competitively where they can." It comes as Nationwide became the latest lender to reduce its rates yesterday by up to 0.40 percentage points.
So should I buy a property in Edinburgh and the Lothians?
What all this means is that this could be as good a time as any to make that move. Indications are that prices in Edinburgh will experience growth over the coming years but at a slower rate than experienced in the past few years and mortgage costs are unlikely to fall dramatically.  If you've assessed your affordability carefully and thought about the lifestyle you want to have as well as the property you want to have it in, with the wider choice available in the market as summer ends and buyer and seller focus returns to property, then why not make that move? And of course, we are here to help.
With over 40 years experience buying and selling property in Edinburgh and the Lothians and beyond, we've seen almost every market condition imaginable and are best placed to guide buyers and sellers through the process. Our expert in house solicitors offer free sale and purchase consultations which can easily be booked on our website.
Book a free consultation with Neilsons here!