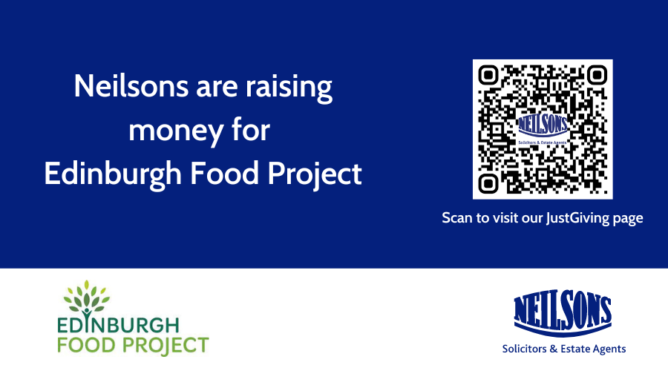 We are slowly approaching the Christmas period, which is a tremendously exciting time for many. However, for others it can be a period of uncertainty and worry.
For the past three years, Neilsons have supported the Edinburgh Food Project with their foodbank appeal in the lead up to Christmas. We as a Firm are delighted to be supporting this fantastic charity once again this year.
Due to the ongoing cost of living crisis, this winter will be extremely difficult for many within the communities in which Neilsons operate. In response to this, Neilsons have opted to begin our foodbank appeal earlier this year and to ramp up our overall fundraising efforts.
The Edinburgh Food Project are part of a nationwide network of foodbanks, supported by The Trussell Trust, working to combat poverty and hunger across the UK. We will be collecting food donations on behalf of the Edinburgh Food Project, together with cash donations via Justgiving.
There will be drop off points at our Corstorphine, City Centre, South Queensferry and Bonnyrigg offices and items can be handed in at any time between now and December 16th 2022.
138 and 142 St John's Road, Edinburgh, EH12 8AY
2a Picardy Place, Edinburgh, EH1 3JT
37 High Street, South Queensferry, EH30 9HN
72 High Street, Bonnyrigg, EH19 2AE
Neilsons also have some very exciting fundraising events upcoming over the next few months, which we are delighted to share details of.
On October 22nd a team of Neilsons volunteers will be braving the cold weather and taking on the Edinburgh 7 Hills Challenge. Woolly hats and flasks of tea will be provided for our hardy team of volunteers! Each Neilsons staff member taking part has committed to raising a minimum of £100 each for the charity.
On December 5th 2022, a further team of staff will be attending at the Edinburgh Foodbank Project warehouse to assist their fantastic volunteers with the day to day running of the foodbank.
Finally, Neilsons are also delighted to this year be organising the 'Neilsons Cup,' which will take place on Sunday 20th November 2022. This will involve over 100 local kids taking part in a 7 a side football tournament, put on by the Firm, together with our Partnership with Hutchison Vale. The tournament will be free for all kids, with exciting prizes for the winning team and player of the tournament. We are encouraging parents to contribute to our appeal on the day, be this with cash donations or food parcels.
Aidan Tuohy, Partner in our Head Office on St Johns Road who has helped to co-ordinate this years appeal, said:-
"Neilsons have had a presence in the local Edinburgh community since 1977 and now have offices across the city and in more recent years, have set up shop in Bonnyrigg.  We have always been involved in local charitable endeavours and this forms part of our ethos as a Firm.
We are passionate about the communities that we serve. We want to do everything in our power to help the most vulnerable, particularly with the ongoing cost of living crisis and the impact that this will have on people. This winter will be extremely difficult for many.
Our focus this year is communities helping communities. We are very excited to be involved in this year's appeal and would ask our clients, the public and our business partners to assist us with any donations, big or small, to ensure the drive is an overwhelming success."
Please see below a link to our JustGiving page, and a list of the most essential items required by the Edinburgh Food Project.

Visit our JustGiving page here!