Five months into 2019, our Operations Director Jenna Spence takes a look at the current dynamics of the Edinburgh property market.

"Believe it or not, we are almost at the half way point of 2019.
In the first five months of 2019, the Edinburgh property market has proved resilient, dynamic and interesting. It would be hard to imagine the property market out-performing 2018 so far given the fact that 2018 saw such astronomical sales being secured at highly competitive closing dates – however – ESPC member firms have noted an increase in sales by 6.8% between January and the end of April 2019 compared to 2018. Whilst there has naturally been discourse surrounding Brexit and other ongoing political issues, the Edinburgh property market has so far remained largely unaffected.
In London, many jobs particularly in financial services are linked to Europe, and you will have seen that the London property market has had a rollercoaster ride ever since Brexit first appeared on the horizon.
The Edinburgh market has proved remarkably resilient over the past 18 months or so. In previous years, there was a considerable rush amongst buy to let investors to beat a change in legislation which created a degree of panic buying in the market.  This meant that purchase activity in the market increased dramatically and the market began to overheat.  Closing dates became the norm and even the most average property in terms of location and presentation was achieving offers well in excess of valuation, often pricing eager first-time buyers out of the market.
As you can see from this graph below, every UK city is different which is why press generalisations on a "UK property market" are extremely unhelpful over-generalisations to make!
Edinburgh has witnessed a house price growth recovery post-recession split between 2013-2016 and post-Brexit vote mid 2016-2018. London and Cambridge, on the other hand, had a broad recovery between 2013-mid 2016 but has had barely no house price growth from 2016-2018.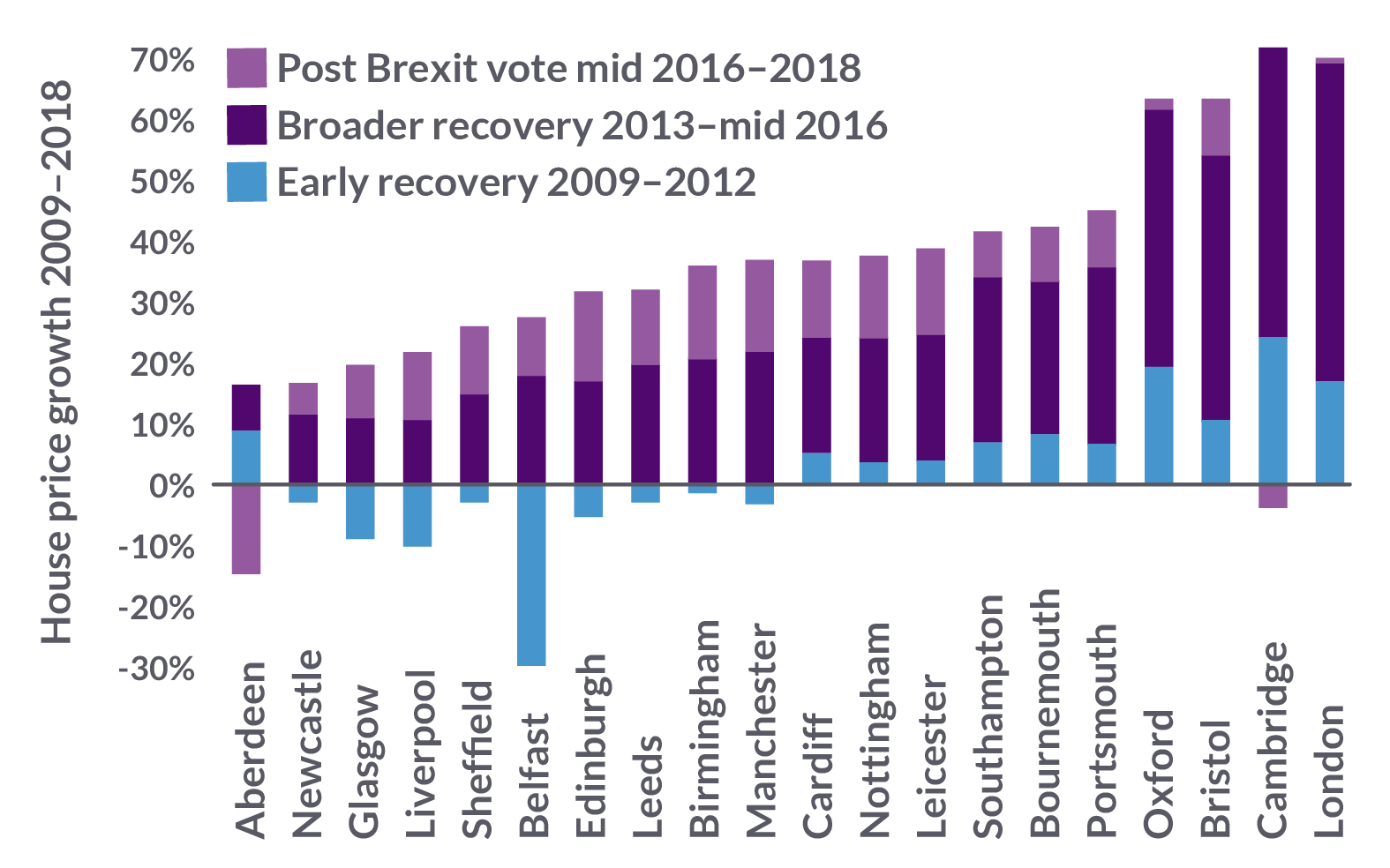 In Edinburgh, property prices continue to grow (they are up 2.1% compared to the same quarter last year) but despite the prices increasing, the gap between Home Report values and sale prices secured is shortening. Graham + Sibbald surveyors report that average premiums over Home Report this quarter have been 3.5%, compared to 5.1% this time last year. The factors at play here affecting this figure is more supply on the market and Home Report valuations being justifiably higher than last year, given the comparable evidence from 2018 to justify this. I think that both factors are important. There is clearly strong demand in the market, to justify higher values being placed on properties, and there is more supply to meet the demand which means average premiums being achieved over Home Report valuation have reduced slightly as there is more choice on the open market for buyers than in previous years.
ESPC member firms are reporting a 4.4% increase in new properties coming to market, with Neilsons reporting a 24% increase in new properties coming to market. This supply will really help to balance the demand in the market. It certainly seems like the best time to both sell and buy right now. It is worth mentioning that sale prices will certainly continue to increase, but perhaps not at the same rate as previous years given the rush brought about from buy to let investors. Short-term lets in Edinburgh are also under legislative scrutiny at local Council and also government level, which is bound to be welcome news to both long-term renters in the city and also first-time buyers looking to get a foot on the property market.
Back to Brexit. Given the Edinburgh economy is largely broad based and whilst a messy Brexit may in due course impact on the property market despite the best efforts of the national press to apply the experience of the London property market to the rest of the UK we have so far been immune to such issues.
Obviously should a major employer such as Aberdeen Standard or RBS decide to relocate then that may have an impact, but we have seen no evidence of this thus far and the threat of such a problem has not impacted on the Edinburgh and East Central Scotland market. That is not to say that everything in the Edinburgh property market garden is rosy. My concern is not Brexit but the consequences and political discourse that a messy Brexit may bring in it's wake that has started to emerge in recent weeks. It's worth pointing out that none of us have a crystal ball however and all we can do is reflect on what is currently happening in the market: it's a great time to sell still in Edinburgh and East Central Scotland, and with more supply coming on the market to meet the demand of buyers, it is also a good time to buy."
Are you thinking of selling and/or buying? Book your free consultation with Neilsons online here!