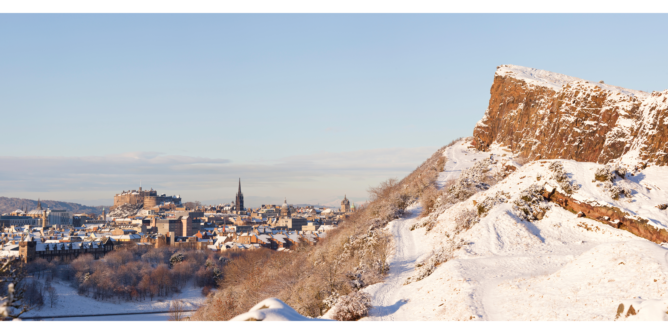 Whilst we've enjoyed a mild Autumn so far this year, as we move in to the winter months, with energy prices at an all-time high, homeowners and movers are seeking ways to make their properties as energy efficient as possible and paying more attention to Energy Performance Certificates (EPCs) than ever before.
What is an EPC?
Every property that is listed for sale or rent in the UK must have an Energy Performance Certificate that is no more than 10 years old. When selling a property in Scotland, the EPC forms part of the Home Report. Much like the energy efficiency graph sticker found on appliances, the EPC provides the energy rating of the home, scored alphabetically from A to G telling you how energy efficient the property is and giving you an indication of how costly it will be to run.
If you're thinking of buying a new home or selling your home in the near future then it is important to think carefully about the type of property, the adaptations you might look to make to weatherproof the property and which building regulations or mortgage lenders criteria you should be aware of.
What should I do to Energy-Proof my home?
In a recent poll conducted by Neilsons, Double Glazing was chosen as the most desirable energy-saving feature, with Roof Insulation in second place and Draught Exclusion coming in third. Let's take a look at these three features and what else you can do to save money on energy bills this winter.
Should I put Double Glazing in my home?
Good quality, modern double glazing is certainly a top selling feature with a wide choice of styles available to suit most properties from timber framed sash and case styles which can be suitable for use in Listed Buildings, to modern upvc & alu-clad styles with a range of colours and finishes. When thinking of putting in double glazing, you need to check the building regulations for your property, street and area, especially if you are in a Listed Building or the property is located in a conservation area. A competent, registered installer will be able to guide you on this and you can also check with Building Standards at Edinburgh Council. The Energy Saving Trust estimate the cost of double glazing an average semi-detached house to be £7,500 for A-rated windows, producing a saving on energy bills of approximately £195 per year.
If double glazing isn't an option, then other steps can be taken to improve thermal loss via the windows and cut down bills.  Getting old timber shutters working again or installing heavy, thermal lined curtains can make a huge difference. Other options include secondary glazing and draught-proofing.
Should I insulate my home?
Insulation is a hot topic at the moment with homeowners being made aware of scams from door-to-door sales people offering 'cheap' insulation solutions that can cause huge problems down the line if the incorrect type of insulation is used. The wrong insulation can cause fundamental damage to a property, affect its mortageability and be costly to rectify. Graham & Sibbald Surveyors confirmed to us that the correct insulation, used appropriately can make the biggest difference to the energy rating on an EPC, with EPC inspectors on the lookout for loft and cavity wall insulation as well as under floor insulation. Uninsulated homes can lose a quarter of their heat through their roof, so looking at appropriate loft insulation is a great place to start – however, be warned that Spray Foam insulation is currently not advisable as many mortgage lenders will not accept properties that have this type of insulation in place.
What is Spray Foam Insulation?
Spray Foam is a form of polyeurethane or similar expanding foam that is commonly sprayed in to roof spaces or under floors to provide insulation. The problem with this type of insulation is that if it is not installed properly, it can restrict air circulation, cause condensation or put stress on roof timbers, all of which can cause lasting damage to a property. The Residential Property Surveyors Association (RPSA) issued guidance last year saying that properties with Spray Foam Insulation might be difficult or impossible to sell, that it could cause thousands of pounds worth of damage to a property and that best practise is that it should be removed, however, their guidance is currently under review pending a full review and possible regulation of Spray Foam Insulation involving stakeholders including surveyors, builders, building material manufacturers, mortgage lenders and others. It is understood that open cell type spray foam might actually be beneficial to homes and provide suitable insulation, however it currently remains the case in Scotland (November 2022) that surveyors will flag the presence of Spray Foam in the Home Report and not all lenders will accept properties with Spray Foam so if your property has Spray Foam and you're thinking of selling, it is probably best to remove it prior to the Home Report inspection so that the mortgageability of the property is not limited.
Can I put insulation in to a Listed Building?
With some of the most desirable properties in Edinburgh and the Lothians being period homes like those found in Edinburgh's Georgian New Town, it is worth considering that older, stone-built properties can be difficult but not impossible to retrofit insulation in to. If your property is listed, then there is a host of useful information available from Historic Environment Scotland including this video tour of how they brought a B-listed Edinburgh building from EPC rating F up to a C.
What type of Central Heating is best?
With 95% of UK homes now having central heating, it is of course fundamental to keeping cosy this winter. Whilst oil-fired and electric systems are available, efficient modern gas boilers top EPC ratings higher than any other type of boiler currently available. Once that heat has been gained, excluding draughts is essential for keeping warm and if you have a separate hot water tank then putting an insulating jacket on it can save up to £70 per year on your bill.
Will Draught Proofing my home help?
Draft Proofing your property is one of the cheapest and most effective ways to make energy savings.  Be wary that buildings need ventilation to avoid damp, rot and condensation so do not block or seal grilles or air bricks, wall vents or trickle vents above windows. Look instead at sealing gaps around windows and doors, unused chimney breasts, around pipework and around loft hatches.
What can I do to improve my EPC Rating?
Whilst a good boiler, a-rated double glazing, insulating and draught proofing your property will make the biggest changes to your EPC, each EPC will have guidance on tweaks that can be made to a property to maximise its energy efficiency. This could include minor changes like changing all the lightbulbs to energy efficient LEDs throughout the home and making sure your radiators have thermostatic valves and a room thermostat to more major additions like adding solar panels or other renewable energy sources.
What energy saving features should I look for when buying a property?
For buyers, we always recommend thinking about the lifestyle you want to have as well as the property you want to have it in. Whilst high ceilings and period features will always be extremely desirable, modern energy efficient buildings will significantly reduce your monthly outgoings. Read the EPC carefully and make sure you carry out the recommendations within it. If you're fixed on a style of property then obtaining independent advice from a consultant or designer – like an Architect, who can tailor advice to the property for you is advisable.  Be aware that people who have a product to sell won't necessarily have your best interests, nor the longevity of your property at heart.
For further advice and information on buying or selling a property please contact our award winning team here.
With thanks to Corstorphine based Greenshields Architects & Graham & Sibbald Surveyors for their advice and input.
For advice, book a free consultation with Neilsons here!