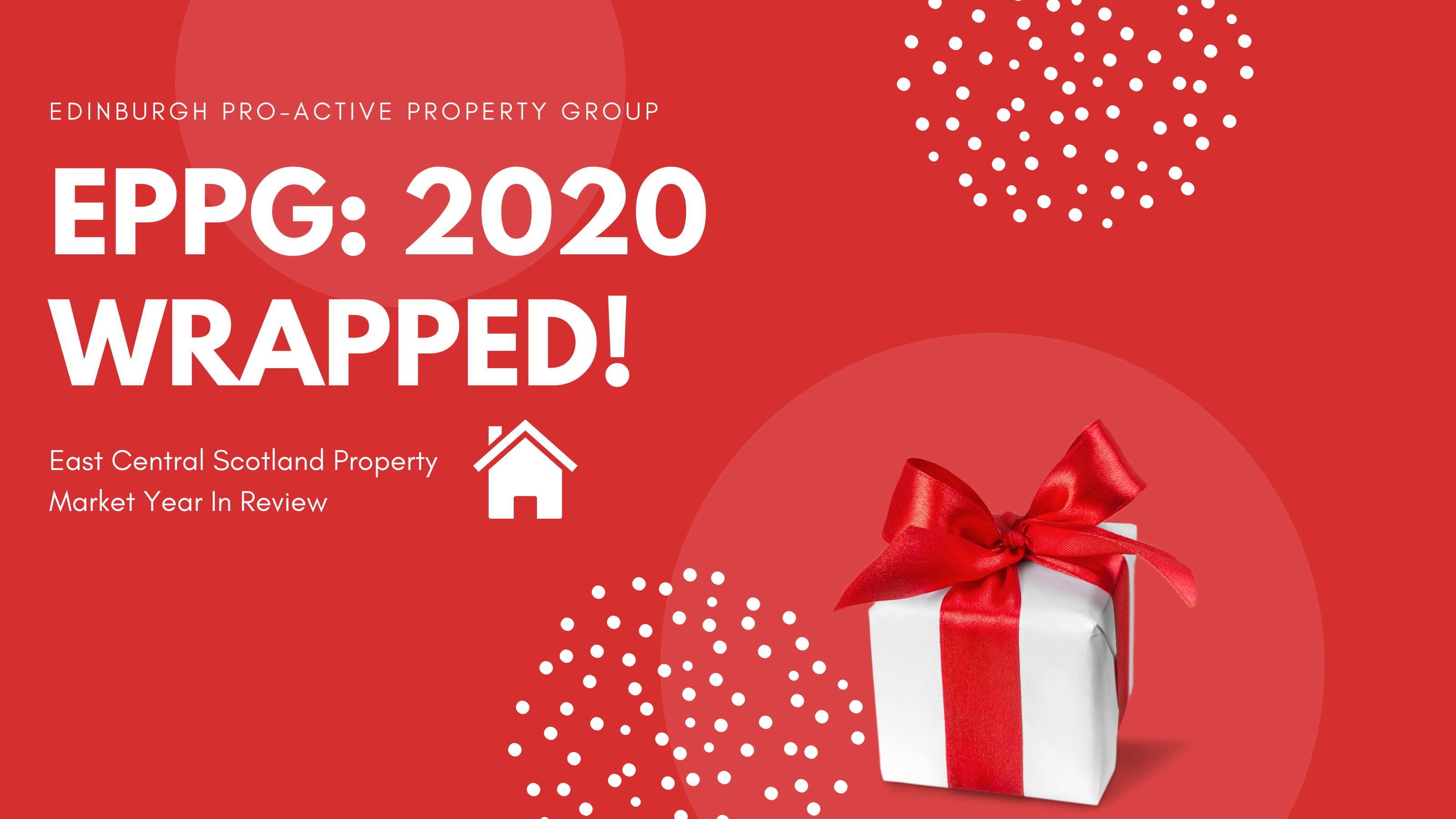 16% increase in the number of properties marketed with an EPPG firm in 2020
34% increase in the number of website users on EPPG firm websites in 2020
60% increase in the number of website page views in 2020 – 1.95 million!
17 helpful and informative blogs covering everything from First Time Buyer Schemes to the route out of lockdown
Why EPPG formed
Edinburgh Pro-Active Property Group (EPPG) comprises Warners Solicitors and Estate Agents, Neilsons Solicitors and Estate Agents, Deans Solicitors and Estate Agents and VMH Solicitors and Estate Agents, four of the biggest firms advertising in the Edinburgh Solicitors Property Centre (ESPC) representing over a quarter of sellers currently marketing their property for sale.
With the challenges that the COVID-19 pandemic posed for the property market, as well as the wider economy, EPPG decided to work together to provide informative and relevant information on property market activity collectively from our firms which remained open remotely and providing a service to our clients during lockdown from 23rd March to 29th June 2020.
When the furlough scheme was announced, many firms elected to effectively shut up shop completely and furlough all staff, but we noted early on that there was a groundswell of demand from clients for information, advice and services and we provided much guidance on how to keep moving whilst operating in a safe environment, following all government guidance.
As we remained open remotely, we had our fingers firmly on the pulse of local market conditions and were innovating at a rapid pace. We were some of the first firms who introduced virtual viewing options for our clients which we viewed as a core marketing essential with physical viewings banned initially. These have since proved to be even more vital with the Government's 'virtual viewing first' requirement from 29th June onwards when the market was then able to open more fully.
What's the market been like in 2020?
When EPPG was formed, we advised from the outset that despite lockdown there was still market activity indicating resilience in the local East Central Scotland property market.
Since the market was able to re-open more fully (but still safely) from 29th June onwards there has been huge levels of market activity resulting in no seasonality this year which is a trend we have been witnessing emerge locally since around 2018.
We had pent up demand to begin with, but there has also been evidence of changing needs of buyers and incentives stimulating the market further.
More, now than ever, buyers are prioritising space, location and are factoring in changed working patterns. Less time spent socialising in-person with family and friends reinforces the importance and needs of the home environment in which we are spending more time in than ever before.
In addition to changing needs, there have been various incentives this year. There is a reduction in LBTT (stamp duty) implemented in Scotland up until 31st March 2021 so the majority of buyers are making a saving of up to £2,100 (provided Additional Dwelling Supplement is not payable for second homes) and first time buyers have been considerably supported by the First Home Fund giving successful applicants up to £25,000 towards their first purchase. The fund is closed for new applications in 2020 but will re-open again in April 2021.
Whilst the housing market is not immune to a weakening economy the post-lockdown boost to demand from June onwards has resulted in exceptionally strong market conditions in East Central Scotland and EPPG have been here to experience it all and guide our clients through it.
What's to follow in 2021?
It is potentially quite complicated. There are various things that will influence the market dynamics…
Firstly, we are very pleased that the Scottish Government has confirmed that house moves will continue to be permitted across all five tier protection levels. This certainly bodes well for sellers and buyers heading into winter and we cannot envisage the positive reality of the local property market changing anytime soon.
Here are some other key factors to take into consideration:
The First Home Fund has been paused by the Scottish Government until 1st April 2021. This has caused a slight cooling of demand throughout the market starting at entry level  – so we are seeing some fixed prices for the first time in a long time but we are still witnessing the majority of good, well presented properties going to a closing date and high prices being offered.
Seasonality: In previous years the market cools down as we approach the Christmas and New Year period, but there is no evidence of seasonality influencing the market this year because of so much ongoing  demand from buyers. The property portals are always busy during Christmas and New Year so now is a great time to advertise and get your property seen by prospective buyers from home over the Christmas holiday period.
The current LBTT (stamp duty) reduction, was designed to stimulate the market but – as things stand – is set to finish on 31st March 2021. Our past experience leads us to the view that there is a market frenzy of activity as purchasers try to take advantage of the better rates of LBTT before they are withdrawn. This will re-awaken the market quickly in January onwards, immediately after the Christmas and New Year break.
The economic backdrop: Many journalists believe that the double whammy of the effects of the pandemic and Brexit will lead us to a depressed economic outlook which will impact on the property market. That may yet prove to be the case in time, but we have call it as we see it (as EPPG have done throughout 2020) and so far neither of these influences have had an adverse effect on the local property market. The Edinburgh and Lothians property market continues to show itself as remarkably strong and robust.
Innovation: The World has had to adapt and innovate very quickly to the ever evolving COVID-19 situation and property marketing is no exception in 2020. Specialist website exposure, coupled with an effective social media strategy and innovative features will continue to drive the market forward in 2021 and sellers should ensure they pick a knowledgeable firm with cutting-edge technological know -how and marketing expertise to guarantee the best results possible. It's not enough for a firm to say they do it, it's about how well they do it.
Putting this all together, where do we go now?
We have now gone beyond pent up demand; many people are looking to move home as they have re-assessed their property needs, following lockdown and the news of COVID-19 vaccine effectiveness has seen the property market hold steady to buck seasonal slowdown trends in winter. EPPG firms have recorded up to a 31% increase in activity levels comparing the two week period where the three successful vaccines were announced, compared to the previous 2-week period.
Despite restricted loan to value mortgages, we have witnessed activity in the market that is far greater than we have seen before. This momentum we think will carry the market through temporary blips that may be caused by seasonality; the post LBTT downturn after the frenzy at the end of March and even the economic clouds on the horizon.
Lloyds Bank, one of the UK's largest mortgage lenders, this week announced the beginnings of a return to 90% lending for some buyers. This signals that the mortgage lenders are beginning to regain confidence in the market going forward.
Ironically just as the market should take a dip after LBTT returns to higher rates, the reintroduction of the First Home Fund at that time will inject a new domino effect with increased first-time buyer activity.
With all this in mind, EPPG firms think we will continue to be busy!
Have a Merry Christmas and a Happy New Year. We look forward to working with you in 2021 and, if you would like to market your property before then, we are on hand to help. Just as we have been throughout the whole of 2020.
Book a free telephone consultation with Neilsons online here