On Monday 29th June 2020, after 13 weeks of restrictions on house moves in Scotland, the Scottish property market officially re-opened with new guidance in place and there is now a safe but progressive way forward.
This week, the ESPC (of which all EPPG firms are members) reported that the highest level of valuation requests received in a month was June 2020. Zoopla are reporting that buyer demand is 46% higher than pre-lockdown levels and sellers who sell now will benefit from these strong market conditions.  Scottish Solicitor Estate Agents are also reporting a rise in buyer enquiries with properties with home-working space, gardens and easy access to outdoor green spaces especially sought after.
Edinburgh Pro-Active Property Group (EPPG) firms including Neilsons, Warners, VMH and Deans who between them represent 25% of local buyers and sellers in Edinburgh and the Lothians have witnessed a huge surge in activity during this first official week of re-opening in Scotland which you can see in our infographic. In addition, collectively we have a staggering 29 closing dates set on properties for the upcoming week indicating the strong demand in the local market.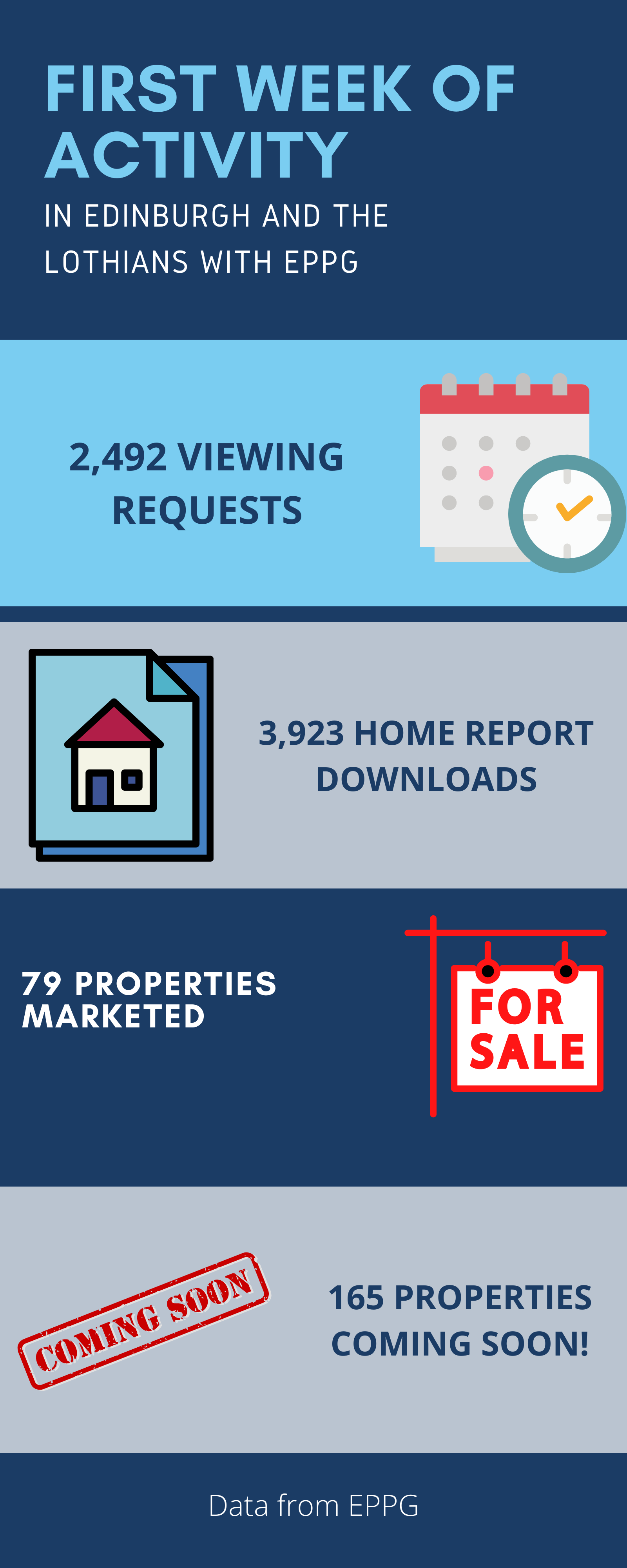 With many processes and activites re-imagined to take account of social distancing, EPPG firms have had their finger on the pulse of the market since lockdown began and are very well equipped to navigate the current maze with sellers and buyers benefitting from the expertise and innovative remote systems in place.
Jenna Spence, Operations Director at Neilsons Solicitors and Estate Agents, said: "Understandably throughout lockdown, many transactions were put on hold due to social distancing and measures required to be taken to protect the health and wellbeing of the public and support the NHS. Despite this, the Edinburgh and Lothians market proved both dynamic and resilient with considerable demand and interest throughout lockdown and EPPG firms innovated rapidly to provide our clients with an excellent, adaptive and innovative service. During the 13 weeks of lockdown, our sales clients received 220 Offers indicating the underlying demand in the highly desirable local market and in June 2020 Neilsons' website activity was up 65% on June 2019 figures. Even compared to our usual peak Spring period in any previous year, Neilsons' website activity is up 50%. With a further relaxation on home moves introduced on Monday (29th June), the pent-up demand has dramatically increased further with the market now currently exceeding pre-lockdown levels. Local sellers who market now will certainly benefit from these strong market conditions and buyers will be encouraged by the level of properties due to market in the coming weeks."
Laura Walker, Partner at Deans Solicitors and Estate Agents LLP, said: "It has been well documented that the Edinburgh and Lothians property market was buoyant prior to lockdown. With innovative aspects such as virtual viewings and valuations, activity reported by EPPG Firms throughout the lockdown period has remained strong whilst adhering to the very necessary public health measures in place.
As conditions pertaining to home moves are relaxed (with new processes to be followed) from 29th June 2020 EPPG Firms have reported a surge in demand from viewers and both new and existing clients looking to now market their property for sale and/or purchase. EPPG Firms have been operating remotely throughout the lockdown period and are well placed to navigate you through the new steps and processes in what is a buoyant but different market than you are likely to have experienced before. As we know moving home can be an exciting opportunity to start a new chapter and this is a journey we at Deans are delighted to be a part of."
Stacey Wilson, Director at VMH Solicitors, said: "With encouraging numbers of both sellers and buyers coming to the Edinburgh and Lothians property market following the easing of lockdown measures on Monday 29th June, our statistics show positive signs that this market is moving again. Many clients had to put their pre-lockdown sale or purchase on hold and are now keen to make their move. Additionally, we're seeing a large number of new clients looking for a post-lockdown property change. During this period, we have the tools at our disposal to ensure safe and seamless transactions."
Get in touch today for free advice!
Book a free telephone or video consultation with Neilsons online here