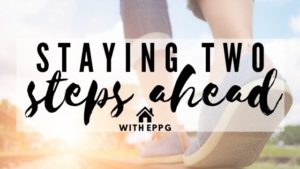 Here we are, almost 12 months since the first Scottish Lockdown was announced on the evening of 23rd March 2020! So much has happened, where do we start?
The Edinburgh Pro-active Property Group ('EPPG') is an association of the most pro-active, and innovative firms in the Edinburgh Solicitors Property Centre ('ESPC') specialising in the sale and purchase of residential property in East Central Scotland.
Collectively, in 2019 and 2020, the EPPG firms processed sales worth £784m in East Central Scotland.
In 2020, EPPG generated 1.95 million website page views across our firms' websites – an increase of 60% on 2019 figures. All power to sellers who pick an EPPG firm to market and sell their property!
We originally got together as a group to discuss ideas on how to overcome the obstacles that COVID-19 and the national lockdown had thrown at us, and our clients.
It was clear that there was a large groundswell of demand from sellers and buyers, and unlike many firms that went into full hibernation mode, we truly kept things going whilst operating in a safe remote environment – always following all required public health and social distancing measures.
Unfortunately, we quickly realised that the news that was being publicised about the effect of lockdown on the Scottish property market was being widely misrepresented and nobody was hearing first-hand from the Solicitor Estate Agents working at the forefront of activity.
Cue the official formation of our group!
During this time, some of the features that are now essential in property marketing, such as virtual viewings, were pioneered by EPPG months ahead of other firms. We also introduced virtual valuations.
This enabled buyers to view properties virtually and submit Offers subject to an in-person viewing in the future. Offers were being agreed at strong prices, despite the lockdown.
Who would have thought we would be setting closing dates in the middle of a global pandemic with interest from buyers who had never arranged in-person viewings?!
Whilst other firms shut up shop, we remained open, helpful, and visible – virtually and remotely.
This was a massive opportunity for us to speak to buyers and sellers and give them a first-hand point of view on the market – not a distorted perspective that the media wants to put out for sensationalist click-bait articles and not from any property portal that does not have any understanding of life at the coal face.
We really did hit our aims – we released 18 helpful blog articles and posted countless times on social media – keeping everyone informed on activity and we are here to stay.
What is happening in the local property market, generally?
No seasonality
Surprisingly, some local agents are still referring to the 'UK property market'. The truth is there is no such thing as the "UK property market". The UK is a patchwork of local markets each with its own dynamics. Individual local markets, individual streets and individual house types all perform differently.
Since the market was able to re-open more fully (but still safely) from 29th June onwards there has been huge levels of market activity in East Central Scotland resulting in no seasonality which is a trend we have been witnessing emerge locally since around 2018.
No seasonality is an indication of a strong, dynamic, and resilient property market. The traditional quieter winter period did not materialise.
Changing needs of buyers, beyond the pent-up demand witnessed in spring/autumn 2020
We had pent up demand to begin with, but there has also been evidence of changing needs of buyers and incentives stimulating the market further.
More, now than ever, buyers are prioritising space, location and are factoring in changed working patterns. Less time spent socialising in-person with family and friends reinforces the importance and needs of the home environment in which we are spending more time in than ever before.
Incentives
In addition to changing needs, there have been various incentives. There has been reduction in LBTT (stamp duty) in Scotland, so most buyers have been making a saving of £2100 but this is – as things currently stand – set to end on 31st March 2021.
First time buyers have been considerably supported by the First Home Fund giving successful applicants up to £25,000 towards their first purchase. The fund is closed for new applications in 2020 but will re-open again on 1st April 2021, just as the LBTT reduction ends.
Whilst the housing market is not immune to a weakening economy the post-lockdown boost to demand from June 2020 onwards has resulted in exceptionally strong market conditions in East Central Scotland and EPPG have been here to experience it all and guide our clients through it.
What is on the horizon in 2021?
It is potentially quite complicated and depends on a variety of factors.
Wider Economy
As we have said above, the housing market is not immune to a weakening economy though it is worth pointing out that this situation is entirely different to the global financial crisis of 2008/9 and we are not experiencing the same widespread impact and effects.
The wider economy has been protected to a large degree by the furlough scheme, protecting jobs in hard-hit industries like retail, hospitality, and travel. It was announced at the Budget that the furlough scheme will be extended until the end of September which will protect jobs whilst vaccinations are rolled out.
Mortgage Affordability
Positively, we have historically low interest rates and mortgage lenders are beginning to regain confidence in the market with the return of high loan to value mortgages. Despite restricted loan to value mortgages in 2020, we witnessed activity in the local property market far greater than we have seen before! Moving forward, high loan to value mortgages will boost the market further.
Announced at the Budget on Wednesday, mortgage lenders will be offering 95% mortgages guaranteed by the government from April. This means that buyers with smaller 5% deposits will have support to buy their next home. These mortgages will be available to all buyers (not just first-time buyers) on property purchases of new or existing homes up to a value of £600,000.
Effect of the pandemic and Brexit
Many journalists believe that the double whammy of the effects of the pandemic and Brexit will lead us to a depressed economic outlook which will impact on the property market. That may yet prove to be the case in time, but we have call it as we see it (as EPPG have done throughout 2020) and so far, neither of these influences have had an adverse effect on the local property market. Due to strong demand for the available supply of properties in East Central Scotland, it has remained a strong seller's market for many years now.
Easing of restrictions
We believe it is only natural we will see a slight cooling of property market activity once the economy opens, again, when it is safe to do so. Buyers and sellers will be less couped up in their home environment and will have other priorities and activities in the mix too such as socialising and travel. That said, by slight cooling of activity we do mean slight! We have been exceptionally busy in 2020/21 so far.
The speed of technology and innovation
The World has had to adapt and innovate very quickly to the ever-evolving COVID-19 situation and property marketing is no exception. Innovation will still be key in 2021!
Specialist website exposure coupled with an effective social media strategy and innovative features will continue to drive the market forward in 2021 and sellers should ensure they pick a knowledgeable firm with cutting-edge technological know – how and marketing expertise to guarantee the best results possible. It is not enough for a firm to say they do it, it is about how well they do it.
We will keep progressing with innovation and cutting-edge technologies at our firms to offer buyers and sellers the best service. If anything, lockdown and remote working has shown us how much can be achieved without the need for physical appointments and this will mean that firms can offer clients much greater flexibility.
EPPG View
All things considered, Edinburgh and Lothians property market continues to show itself as remarkably strong and robust and none more so than in the first lockdown last year.
EPPG firms have proven that we have the systems, tools, and expertise to make sure that our clients enjoy successful and safe transactions throughout 2021.
We remember when others in the industry conservatively declined to comment on property market activity for fears of a property crash in Autumn 2020. EPPG on the other hand predicted we would experience high levels of activity, and we did. It was called a 'mini boom' – even by the press!
In our view, it is essential that sellers and buyers choose a pro-active firm who stays two steps ahead of the current fast-paced, increasingly technological, property market.
We still think we will continue to be busy and we will be here to report on it all, throughout, as the year – and the constantly evolving COVID-19 pandemic – progresses.
As usual, we always welcome the opportunity to work with new clients and take your recommendations for future residential property blog topics. Feel free to get in touch for a virtual consultation or to recommend a future topic!
Book a free telephone consultation with Neilsons online here