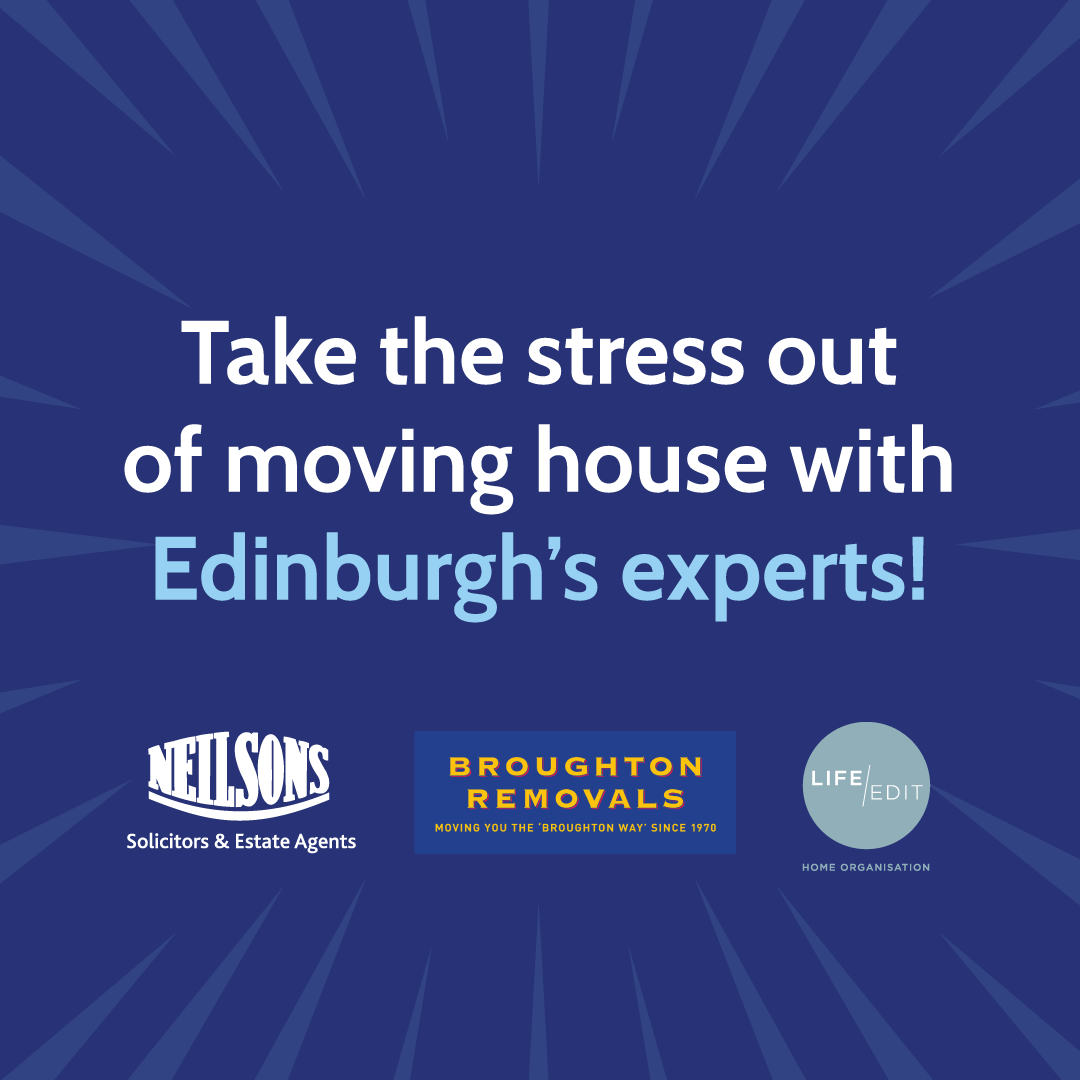 Selling a property can be a stressful process no matter what life stage you're at.
From first time sellers bursting at the seams and moving to get more space, to those moving because children have been added to their family and they're drowning in a sea of plastic toys, to those who look to downsize in later life or perhaps sell a property on behalf of a relative who's no longer with us, each circumstance brings with it questions and logistics.
With over 45  years in the business, at Neilsons we've seen it all and helped every kind of home mover with the practicalities of Estate Agency and Conveyancing.
We're always looking for ways to make the whole moving process easier though, and we're delighted to announce that we've partnered with Edinburgh home-moving experts Broughton Removals and Storage and LIFE / EDIT Home Organisation, to offer you a simple 10 step plan that will make everything about moving home go like clockwork.
We've been super-impressed with the decluttering and home staging wizardry the wonder women of LIFE / EDIT Home Organisation provide, and Broughtons as a long established, family firm share many of our values here at Neilsons.
We've put heads together to assess what home movers really need, from the things that will maximise the value and selling potential of a property to the logistics or actually getting the job done.
A property is often your biggest asset, and selling that property is the one chance in life that you get to maximise your capital tax-free, so it's important to get it right. Selling your main asset should be given careful consideration, it's a time to engage experienced professionals and we are here to help.
But that's not all! Not only will you benefit from our expertise and services, by opting for this package you qualify for the following promotional offers: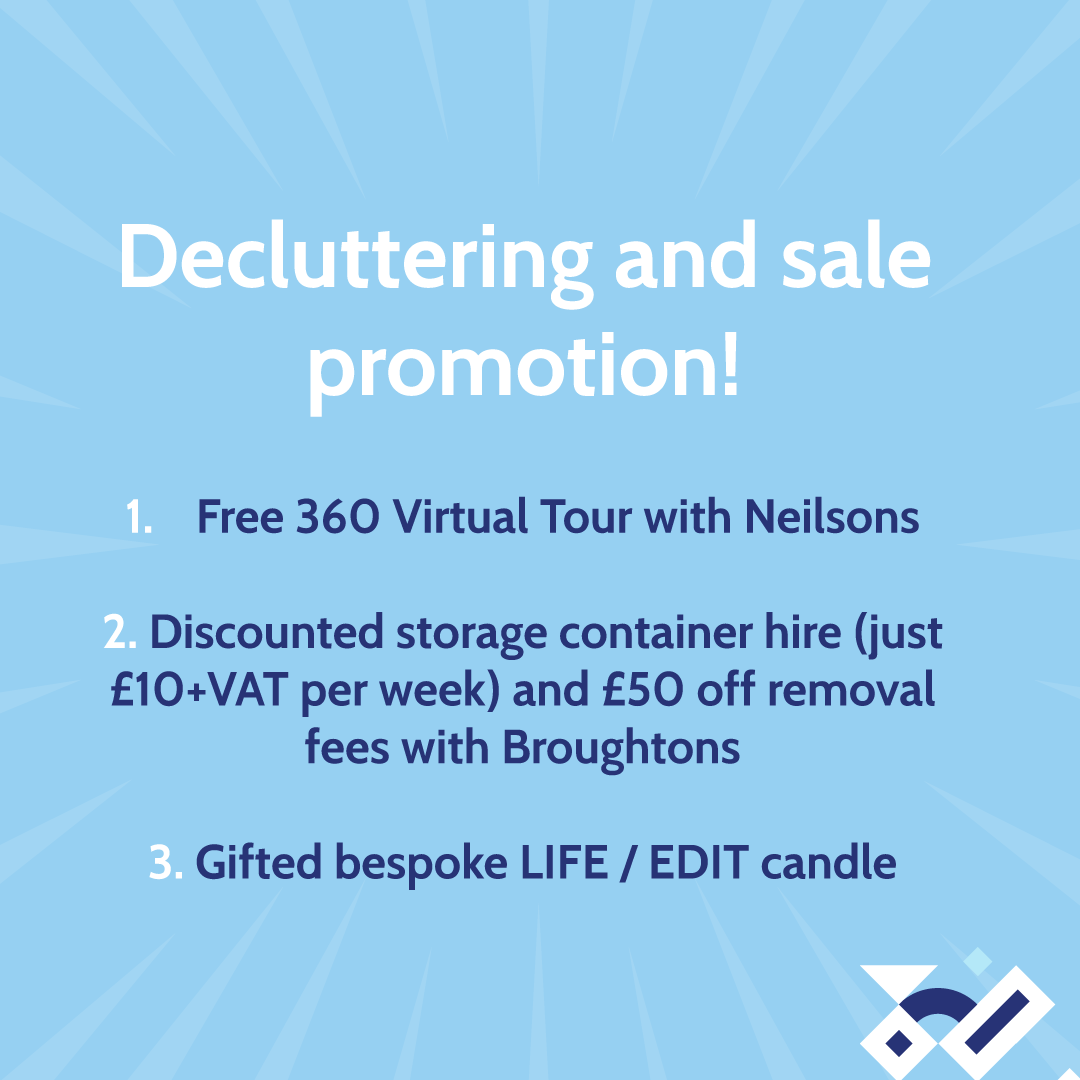 Presentation is everything
Presentation is everything when selling a property.
Most buyers start their search for a home on a mobile phone, looking at tiny thumbnail images, so the more we can do to make those images stand out from the crowd, the better.
For busy individuals, under the stresses and pressures of modern life, finding the time to prepare and present your home for sale can feel like an impossible task, never mind deciding what to do with all the stuff you want to keep to take to your next home but want out of the way for photos and viewings!
This is where our 10 step plan comes in to play.
By partnering with Edinburgh experts, LIFE / EDIT Home Organisation and Broughtons, we can offer you a simple moving package that keeps stress to a minimum and gets your home looking its absolute best to impress buyers!
So how does it work?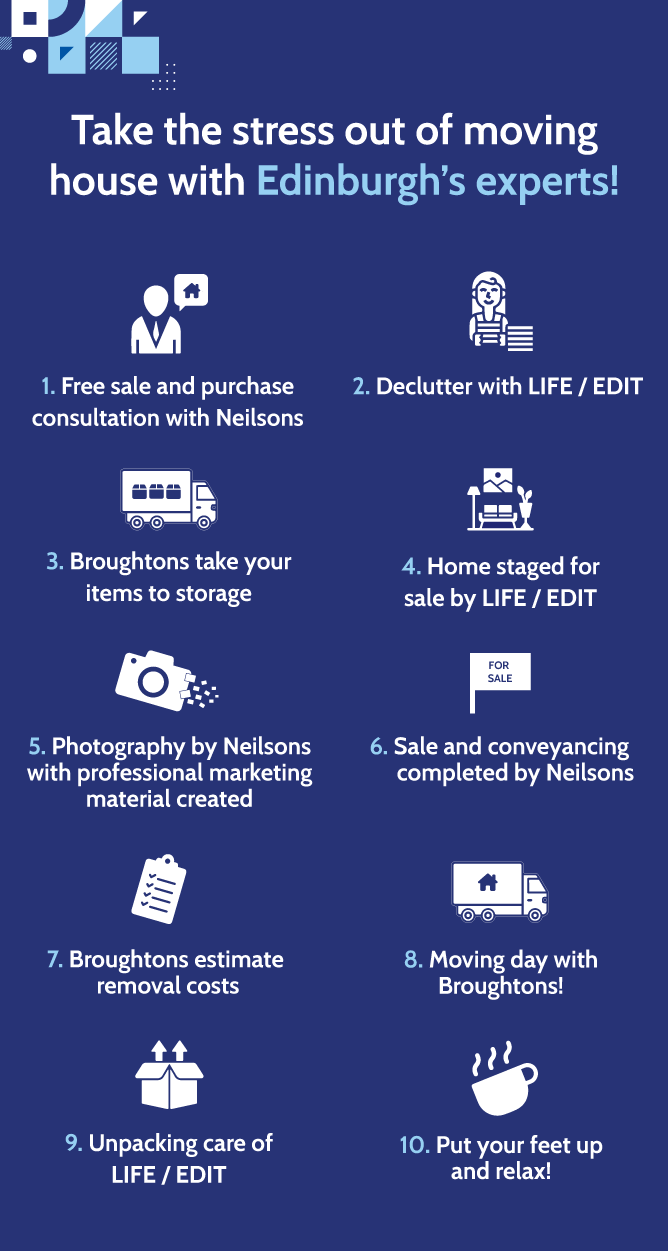 The first step is to get in touch with us at Neilsons and arrange a FREE and no-obligation pre-sale assessment of your property. We'll provide an accurate valuation and offer house-doctoring advice as standard with further staging advice and input on presentation available from LIFE / EDIT Home Organisation too.
Step two is a visit from LIFE / EDIT Home Organisation to professionally declutter your home. Packing the things you want to store and keep ready for collection and helping dispose of the things you no longer require, recycling and donating to charity on your behalf with a commitment to keeping landfill to a minimum.
Now your storage items are packed up, Broughtons will collect your things and store them safely and securely in their unique storage facilities in Leith.
With excess items out of the way, you're now ready for LIFE / EDIT Home Organisation to 'stage' your home to perfection, mainly working with items that you already own to highlight and enhance your property ready for photos and videos.
Neilsons team of professional photographers will attend and Neilsons will pull the eye-catching marketing materials together.
The expert and award-winning team at Neilsons will handle your Estate Agency and Conveyancing. As a leading ESPC member firm, selling 1 in 10 properties in Edinburgh and the Lothians, Neilsons are best placed to secure the best offer for your property available using dynamic marketing, unique technology and skilled and experienced sales staff and in-house solicitors. No other solicitor estate agent has won as many awards as Neilsons in the past 5 years.
With an offer agreed and a moving date in mind, the friendly and experienced team at Broughtons will visit to assess your packing and moving needs and prepare you with an accurate estimate of the moving costs. This highly regarded and long established Edinburgh firm offer a professional and friendly service, ensuring that your possessions are given the utmost care and consideration.
On moving day, the friendly Broughtons team will keep stresses at bay with their years of moving experience, delivering your belongings safely to your new home, including those that were put in to storage in step 3!
Should you desire, the wonder-women of LIFE / EDIT Home Organisation can unpack and organise your new home for you, meaning that the final step…
Step 10, is where you get to relax and put your feet up in your lovely new home!
If the very idea of moving home fills you with dread, these Edinburgh experts are here to make the whole experience a stress-free and even enjoyable time! Here's what our clients say:
Broughton Removals & Storage:
"Moving house at any stage is a huge disruption; moving at an advances age is all the more so. In addition I had not long been widowed and the house I was leaving had been our family home for well over 40 years. Therefore to find myself at the hands of a very experienced removal team was an enormous relief. The removal went smoothly and was done in a professional, but friendly manner. Nothing was broken or damaged. The packing was first class. I will recommend Broughtons unreservedly." Customer in EH7
"Broughton Removals are the best! Moving can be very stressful, but Broughton Removals literally lightened our load. They are family run, and their justified pride in the family business shows in every encounter. We would use no other firm, and can't recommend them too highly." – Michael, Edinburgh.
"Truly delighted with the service we received! The movers made what I had anticipated would be a stress filled day into a stress free, enjoyable experience! Super polite, efficient, careful and just an all round professional bunch :)"- Customer in KY11
LIFE / EDIT Home Organisation:
"If you are on the fence about hiring LIFE / EDIT help you stage your house for sale or declutter just do it!  Myself and my sister were presented with the difficult scenario of having our parents house to tidy up, declutter, dress and prepare for sale but neither of us lived nearby anymore.  Zoë took this on for us with great organisation, energy and humour as well as a lot of skill.  admittedly slightly She transformed a dated and cluttered house and made it very appealing and feel happy again with minimal cost and fuss.  She also communicated and consulted with us extremely well throughout what could have been a difficult and challenging process.  It can be hard also to trust people to do this type of job in this sort of scenario and I can happily recommend to anyone to put their trust in Zoë to help. You won't be disappointed.  Amazing job, thank you." – Sam, Dundee
"Having Zoë and her team in my home felt like welcoming old friends. They made what had the potential to be a stressful experience fun. They made me feel so good about my home and my clothes, a lovely confidence boost. I definitely came away feeling better about myself. I still can't believe the volume of "stuff" they got through in the time. Not having to worry about organising uplift/disposal was such a relief. Every little detail has been thought of. These guys work relentlessly, hardly stopping to draw breath far less lunch. This is an investment and one I am already enjoying the benefits of. It's as if a physical weight has been lifted off my shoulders. Thank you ladies, you are most definitely the Dream Team and I would happily welcome you back any time."  – Julie, Edinburgh
"After spending what seemed like every Monday endlessly decluttering just to have the same to do the following week I reached out to the professionals. Sophie and Julie are absolute angels and gave me more than I could've hoped for. My bedroom and living room are calm and uncluttered. My daughter's bedroom seems to have grown in size. It was the push I needed to get rid of things that had been taking up physical and mental space but there's no way I could've done it on my own. It was definitely an investment that has changed my life for the better. Thank you so much." – Louise, Edinburgh
Neilsons Solicitors and Estate Agents:
"I've used Neilsons for buying and selling property twice and service has been impeccable each time. Communication was clear and timely. The team work really hard to support you to get your sale / purchase done as smoothly as possible, making what can be a stressful life event as stress free as possible." – Joyce, Edinburgh
"Nelsons were fantastic during my move. There were lots of challenges in the process but they were incredibly helpful at every point even going above and beyond. Their information and requests to me were clear and dealing with them was the most straightforward part of moving." – Caryn, Edinburgh
"We were delighted with the service from Neilsons and wouldn't hesitate to recommend to a friend and to use Neilsons services again in future. It's clear to see why Neilsons have won so many awards for their professional and innovative approach. We particularly valued the excellent additional features such as the budget planner and client portal, which made buying and selling so much more straightforward. Thanks to everyone at Neilsons for your help in buying our dream home." – Catriona, Edinburgh
Looking to get things moving?
Just quote 'LIFE / EDIT' when booking your pre-sale assessment with Neilsons or email amyhoward@neilsons.co.uk for helpful, friendly initial advice.