As ever, when it comes to local property market news and updates, Neilsons Solicitors and Estate Agents want to give informative frontline dispatches from those working at the forefront of the local Edinburgh and Lothians property market.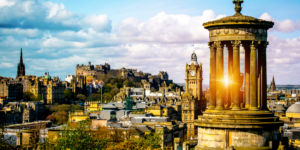 What happened on 2nd February 2023 with interest rates?
On 2nd February 2023, the Bank of England increased the base rate by 0.5% to 4% – the highest rate in 14 years to further curb inflation.
This does signal another tightening of monetary policy, and those on variable or tracker mortgages (10% of those who have a mortgage) will experience an immediate impact. For those on tracker mortgages, this will increase monthly mortgage payments by £49. Those on standard variable rate mortgages face a £31 increase.
Those on fixed rate mortgage deals (accounting for 90% of those who have a mortgage) will currently be unaffected by the interest rate increase – until it is time to remortgage.
Higher interest rates also mean better returns for savings.
Signs that the economy may be turning a corner?
Despite today's announcement, there is light at the end of the tunnel.
We expect the usual media hysteria over the next few weeks and it's vital to look beyond the sensationalism and click-bait headlines. Whilst these are tough times for many, many economics and the Bank Governor have advised there are signs the economy has turned a corner:
The rate of inflation is easing and is expected to halve this year.
While the base rate has increased, lenders have been trimming their rates in the background which has not been featured in the news.
There is strong confidence in the local property market in East Central Scotland – from ESPC, Solicitor Estate Agents and mortgage advisors alike. Activity continues to be high.
Energy bills could fall further than previously forecast later this year, thanks to falling wholesale gas prices.
Fuel prices are already falling – with average petrol prices dropping below 150p a litre in January for the first time since Russia invaded Ukraine – according to the AA.
Rising interest rates are good for savers and in addition, some banks are providing incentives for people switching current accounts.
Recession forecasts have been downgraded today, providing further optimism.
Will higher interest rates affect house prices in Edinburgh and the Lothians in 2023?
As part of the media hysteria, we expect there to continue to be articles about "house prices falling in the UK". It is important to remember that there is still no such thing as the "UK property market". The UK is a patchwork of local markets each with its own unique dynamics.
The Edinburgh and Lothians market has always been one of the most resilient, in-demand and buoyant property markets in the UK.
As ESPC have just reported, selling prices continue to rise in Edinburgh and the Lothians. Between November 2022 and the end of January 2023, the average selling price of property across Edinburgh, the Lothians, Fife, and the Borders increased 5.6% year-on-year to £284,614. 
Dunfermline, in West Fife, and East Fife recorded some of the highest price increases over the last three months. The average selling price for property in Dunfermline was £205,705, an increase of 12.1% annually, while property in East Fife had an average selling price of £301,247, up 13.2% year-on-year.   
Edinburgh saw average property selling prices rise 5.6% annually to £302,073. 
Many out-of-town areas saw rises in average selling prices, with two-bed flats in Joppa and Portobello increasing by 12.4% to £304,460 and three-bedroom houses in South Queensferry and Dalmeny rising 11.6% to £312,458. 
There were also price increases in suburban areas with three bedroom houses in Corstorphine, Clermiston, South Gyle and East Craigs increasing by 8.8% to £410,751.
The average selling price of two bedroom flats in Newington, The Grange, and Blackford rose 5.8% annually to £315,904. 
At Neilsons, the selling prices we achieved for our clients was up 10% in January 2023, compared to January 2022 and we are selling properties on just 14 days in average in 2023 due to strong buyer demand.
All this talk of 'recession' has got me thinking about the 2008 global financial crisis again, should I be concerned?
The property market is in a very different position to the only time we have witnessed property prices fall significantly locally, which was after the global financial crisis in 2008.
In 2007, more than a third of people obtaining a mortgage did not need to prove their affordability with the lender and many were getting mortgages on very low deposits. This led to prices shooting up then when mortgage availability dried up and the economy went into recession, prices fell. After that dip though, in Edinburgh and the Lothians, prices made a rebound much faster than many other areas in the UK.
Since the financial crisis in 2008, lenders have affordability criteria for all, there are much more stringent checks in place and the chances of negative equity are much lower now than they were in the past. This of course puts the market in a better position to weather higher mortgage rates and the increased cost of living.
The property market is not immune to these pressures of course, but the likelihood of price falls is much lower than in the 2008 recession. Certainly, recent property market data including sale price increases over the past three months gives cause for much optimism in the ever resilient local market.
Want more property market advice? Just ask Neilsons. 
Our experienced and professional Solicitors and Estate Agents are here to help you in Edinburgh and the Lothians. If you require advice, just get in touch. 
Call us on 0131 316 4444 today or book a free no obligation consultation on our website today.
Book a FREE initial consultation with Neilsons here!