There's been a lot of media speculation published about the property market today with the announcement that some high-street lenders are removing their mortgage products from the market. So, what's really happening?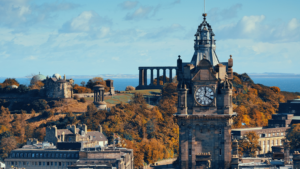 What has happened?
Following the UK Government's mini-budget last Friday the value of the pound has taken a tumble. Global markets lack confidence in the government's ability to manage the billions they are having to borrow to provide the dramatic tax cuts which Kwasi Kwarteng, Chancellor of the Exchequer announced, the biggest tax cuts seen for 50 years. This has caused the Bank of England to announce that they "would not hesitate" to raise interest rates again in order to curb inflation.
In reaction to this now anticipated rise in interest rates, some mortgage lenders have withdrawn some of their mortgage products from the market. Halifax, part of the Lloyds Banking Group, the UK's biggest mortgage lender announced that they were withdrawing all mortgage deals with an arrangement fee – typically the deals with the lowest interest rates. Whilst Virgin Money & Skipton Building Society have stopped mortgage offers for new customers, although submitted applications will still be processed, both lenders are expected to announce new mortgage products as soon as possible. Other major UK lenders have told the BBC today that they are reviewing the situation with HSBC stating that they have "no plans to change mortgage offers" and Natwest commenting that their rates are under "continual review".
What will happen?
It is likely that the Bank of England will announce an increase to the base rate after their next scheduled meeting on the 3rd of November. However, some analysts and economists have suggested that they might call an emergency meeting over the next few days to increase rates to stop the pound falling further and calm rising prices. We will have to wait and see. If they do increase the base rate, then most mortgage lenders will almost certainly increase their rates too as they pass the cost of borrowing along to the consumer.
What does this mean?
If you are looking to buy a property with a mortgage this is a very good time to speak to a whole of market broker and make sure that any Agreement in Principle you've arranged is still valid. It might be best to shop around for a different mortgage deal from the one you had initially sought to use. There are still a vast range of mortgage products available. Unlike the crash of 2008, the banks still have plenty of resources to be able to lend, albeit at a higher cost than the all-time-low rates that mortgage borrowers have been able to enjoy over the past few years. The latest increase to rates added a difference of approximately £50 per month to the average mortgage.
Of course the property market is not immune to the damage being done to the economy. Whilst many buyers look first and foremost for a home, the market is driven by those looking for that home to be a sensible investment too. Added to that there are of course still those who look to invest in second properties and property investment portfolios.
Whilst the headlines suggest that these interest rate increases are the biggest jumps since the 1990s, we must not lose sight of the fact that the base rate is still historically quite low. The last increase of 0.5% saw the biggest increase since 1995 but notably the base rate in 1995 was 6.63% compared to the current 2.25%, with the highest recorded base rate being 17% in 1979. Neilsons Senior Partner Steve Spence commented "We have been a firm at the forefront of the Edinburgh & Lothians property market since 1977 and have seen mortgage rates as high as 15% in that time. We are prepared for a short-term dip in activity until the new rates and repayments become regarded as the norm before pent up demand for homes in this area reasserts itself and market activity continues"
Edinburgh is historically an extremely resilient property market, which has experienced over two years of unprecedented growth following the global Covid-19 Pandemic. Prior to the pandemic, prices in Edinburgh had been rising at a rate of approximately 5% per year with the past two years seeing increases of over 25% for some property types in certain postcodes. This surge in interest has been caused by home movers wanting more from their homes in the post-pandemic climate including home office spaces and private garden spaces. Demand for Edinburgh property, an historically insular market, has massively increased from buyers moving here from other parts of the country as Edinburgh offers a superior quality of living with incredible scenery, great schools, world-class shopping and entertainment – all within a geographically small area. We are hemmed in by the Pentland Hills in one direction and the Firth of Forth in the other, so the supply of property in central locations is finite.
Whilst securing a sale at the best price from a reliable buyer is likely to become trickier over the next few months, Neilsons are extremely well placed to guide our clients through the coming changes to the market. As a technology-led firm we have cutting edge systems for our sale and purchase clients that are unique to Neilsons. Our experienced team, many who've worked through all sorts of market dynamics throughout the decades since 1977, are on hand to offer excellent strategic advice based on clients' own individual circumstances and our superior digital marketing tools will ensure that our properties are well-promoted across all of the major property portals including ESPC, Rightmove, Zoopla and S1Homes alongside our social media, our website and large buyer database.
Neilsons have experienced a high volume of offers and viewing requests so far this week, along with a number of competitive closing dates still in the offing – indicating that the buyers are still out there looking. With the correct presentation, promotion and pricing, properties will continue to sell. If you're thinking of making a move, then get in touch. We are here to help.
Call us on 0131 316 4444 or book a free no obligation consultation on our website today.
Book a FREE telephone consultation with Neilsons here!