With Christmas Party Season in full swing for the first time since 2019, making a Will is the last thing on many people's seasonal To Do Lists. However, Christmas can be a difficult time for many of us emotionally, with fond memories of loved ones who are no longer here to celebrate with us in the thoughts of those left behind. December 2nd to the 8th 2022 is National Grief Awareness Week, a timely reminder to raise public awareness of grief and loss. Making a Will can make the grieving process easier on your loved ones.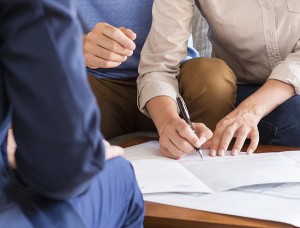 There are many benefits to having a Will place but simplistically, creating a Will allows you to set out your wishes clearly so that these can be carried out after you have passed away. This not only gives you peace of mind, but it also eliminates undue stress for family members and loved ones at a later date. Creating a Will also gives you the opportunity to appoint a guardian for children under the age of 16.
Having a valid Will in place can reduce the cost of estate administration. Estate administration is the process of winding up a deceased persons estate.
If you pass away without a Will, this is known as dying 'intestate'. Dying intestate means that your family would likely need to apply to the Sheriff Court to have an executor appointed before they could deal with winding up your estate. This applies to any estate worth over £36,000 (the small estates threshold in Scotland), so will certainly apply to anyone who owns their own home and it's likely that a Solicitor will be required to petition the Sheriff Court for the family. Dying intestate, therefore, makes the estate administration process longer and more expensive.
It is also important to note that dying without a Will means that your estate will be divided in accordance with Intestacy Laws. This means that your assets may not be distributed to those you wish to inherit from your estate.
You can draft your own Will, however, we would strongly advise that you don't due to the following reasons;
Homemade or DIY Wills do not tend to account for every eventuality, such as, executors and beneficiaries predeceasing you.
You may disinherit a family member unintentionally by remarrying or having a blended family.
If someone you care for is financially dependent on you or if you have children under the age of 16, a DIY Will is insufficient.
It may not be signed correctly, making it invalid.
Wills can be effective tax planning vehicles, which may not be fully utilised without expert advice, which can help reduce or mitigate Inheritance Tax.
There are so many different aspects to creating a Will and our experienced Private Client team offer a free initial consultation where you can work out what's best for you and your loved ones. We are the Scottish Legal Awards Winners of Excellence in Client Care 2022, so you can be confident that you're in safe hands and will be well looked after, as will your loved ones be in their time of grief.
Book a free initial telephone consultation with Neilsons here