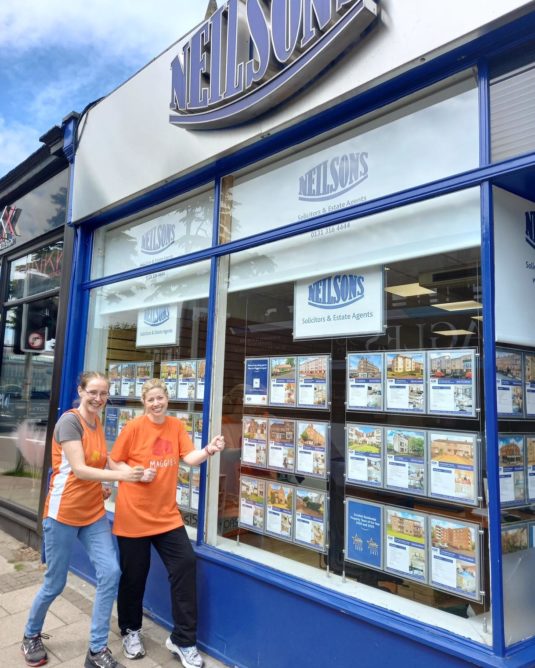 In June 2022, a team of 29 staff from Neilsons Solicitors and Estate Agents took on a physical challenge to raise funds for the brilliant Maggie's Centre.
It's no secret that charities like Maggie's have had a rough ride throughout the pandemic with their usual fundraising avenues like big group fun runs and black-tie events brought to a standstill – even rattling a can or bucket can seem like a thing of the past in the predominantly cash-less society we now live in.
At Neilsons we pride ourselves on our ability to adapt, evolve and innovate – more so in this post-Covid era than ever before. So whilst we've raised money for charities in the past, this time we put a bit more planning in to it.
We have significantly expanded our team in the last few years, increasing staffing by 50% compared to 2019 and whilst we have worked across 6 offices for some time, adding in flexible homeworking for our staff means that our team did not have a proper chance to meet and get to know each other as we usually do with events and socialising en masse off the cards during the pandemic.
Our June challenge for Maggie's Edinburgh not only raised over £5,500 for a brilliant local charity, it also gave our colleagues a chance to team up and meet up to do something outside of our usual work.
Here's how we did it:
We wanted our challenge to be suitable for all levels of fitness so anyone who chose to could participate and we started with the idea of setting a distance to cover within the month of June.
We discussed our plans with Mark Cooper who is the Centre Fundraising Manager for Maggie's Edinburgh at the Western General.
Mark suggested we could cover the distance between all of the Maggie's Centres in Scotland, a distance of 288 miles and so our Miles for Maggie's challenge began. 288 miles is lot for one person to cover in a month if walking or swimming, so we decided to cover the distance in teams of four with any discipline open to the participants. Our amazing team rose to the challenge by walking, swimming, running and cycling.
Each team of four had a team leader to take charge of the weekly mile-count and to set up the JustGiving page – this was easy to do with Maggie's established presence on JustGiving.
As more and more teams from Neilsons joined in the team names got more and more creative – with the staff at Maggie's saying 'Legs Miserable' was the one that made them chuckle the most!
We printed QR codes to display in our prominent shop windows with a link to our fundraising efforts and were delighted when early in the month, a member of the public spotted the challenge and donated in memory of her husband, who'd benefitted from the wonderful care provided by Maggie's.
The stories of support received from Maggie's that poured in on the comments with the fundraising motivated and spurred us on to keep collecting the miles.
Each week the team leaders collated the miles on a spreadsheet along with a total of the funds raised to date and circulated it to the firm, there was a friendly sense of competition between the teams along with email and Whatsapp chats keeping us all engaged. One team leader went above and beyond and sent a daily motivational quote!
We met up for walks in lunchbreaks and stepping away from desks to get fresh air was a noticeable benefit to our well-being. Everyone who took part felt a sense of achievement and found the challenge thoroughly enjoyable. As an added boost to our fitness towards the end of the month we participated in a Blaze Battle at David Lloyd in Corstorphine, and we are grateful to them for hosting the event to boost our challenge.

What we achieved
We finished the month fitter, happier with 2755 miles completed – far further than the 2016 we set out to achieve and through our sponsorship efforts and some generous donations we raised £5,568 for Maggie's!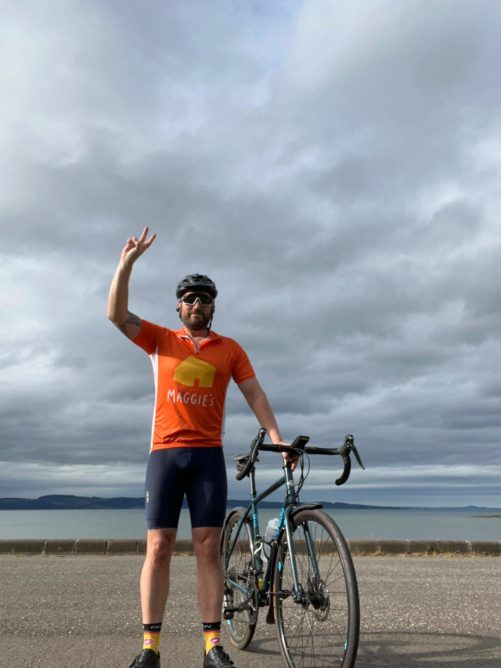 Visiting Maggie's Centre
Last month we visited Maggie's to see the impact the centre has first-hand.
Set within the grounds of Edinburgh's Western General Hospital, the centre is in an extended converted stable block. It's a striking and unique building with a tranquil and beautifully landscaped garden.
The building and grounds create an instant sense of calm away from the clinical setting of the hospital. It's open to anyone impacted by cancer – the patients themselves and their friends and family.
The sociable heart of Maggie's is the welcoming kitchen table, offering a place to meet others and sit with a warm drink and snack.
There are beautifully appointed rooms off the central space offering varied places to meet in large groups or sit quietly for a more private meeting.
It is a truly incredible space and offers so much from support groups, one on one counselling, practical help and advice on benefits and finances to useful information on nutrition and well-being.
We would urge anyone impacted by cancer to pop in and pay them a visit. Members of our team know first-hand the difference Maggie's makes and we hope our fundraising makes a difference to them too.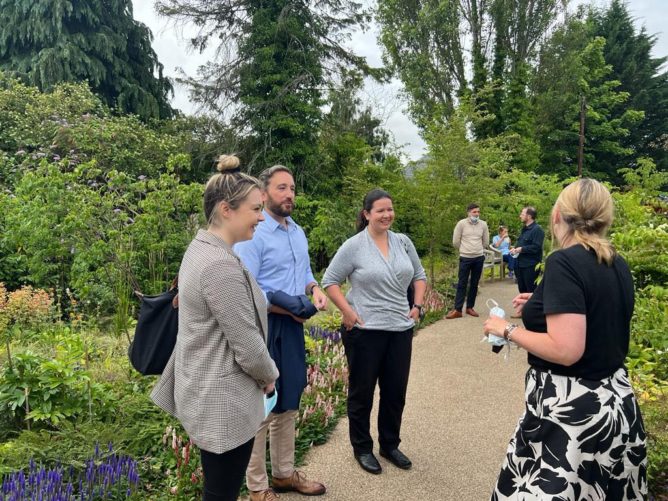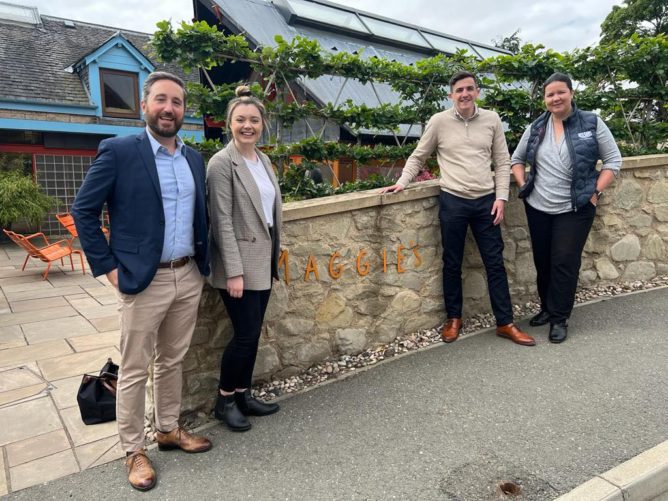 Our ongoing charity commitment
Our ongoing commitment to Maggie's sees our brilliant Private Client team offer entirely free Wills to those going through cancer treatment.
Our Head of Private Client, Tammy Logan, said: "We at Neilsons understand how difficult it is for anyone to be going through cancer treatment, sometimes a Will is the last thing on your mind.  We know it's important but we never get round to doing it, however, if the worst happens it can leave behind a lot of problems for your loved ones. We want to make this process as easy as possible for Maggie's patients and try to take some of the burden from you in process by making it as simple as possible and free of charge.  Maggie's is an amazing charity and we are happy to provide support where we can."
We would recommend fundraising for Maggie's to anyone and the Miles For Maggie's challenge is a brilliant way for any sized business to support Maggie's.
They were brilliantly supportive of us and it was a pleasure to work alongside them.
Our team have really benefitted from taking part, from meeting each other socially at long last to appreciating the benefits of a walk in the fresh air during the working day. We are happy to share our spreadsheet or have a chat with anyone who'd like to give it a go!
Finally, if reading about Wills today has prompted you to update your own, you can book a free consultation on our website below.
Book a free telephone consultation with Neilsons online here