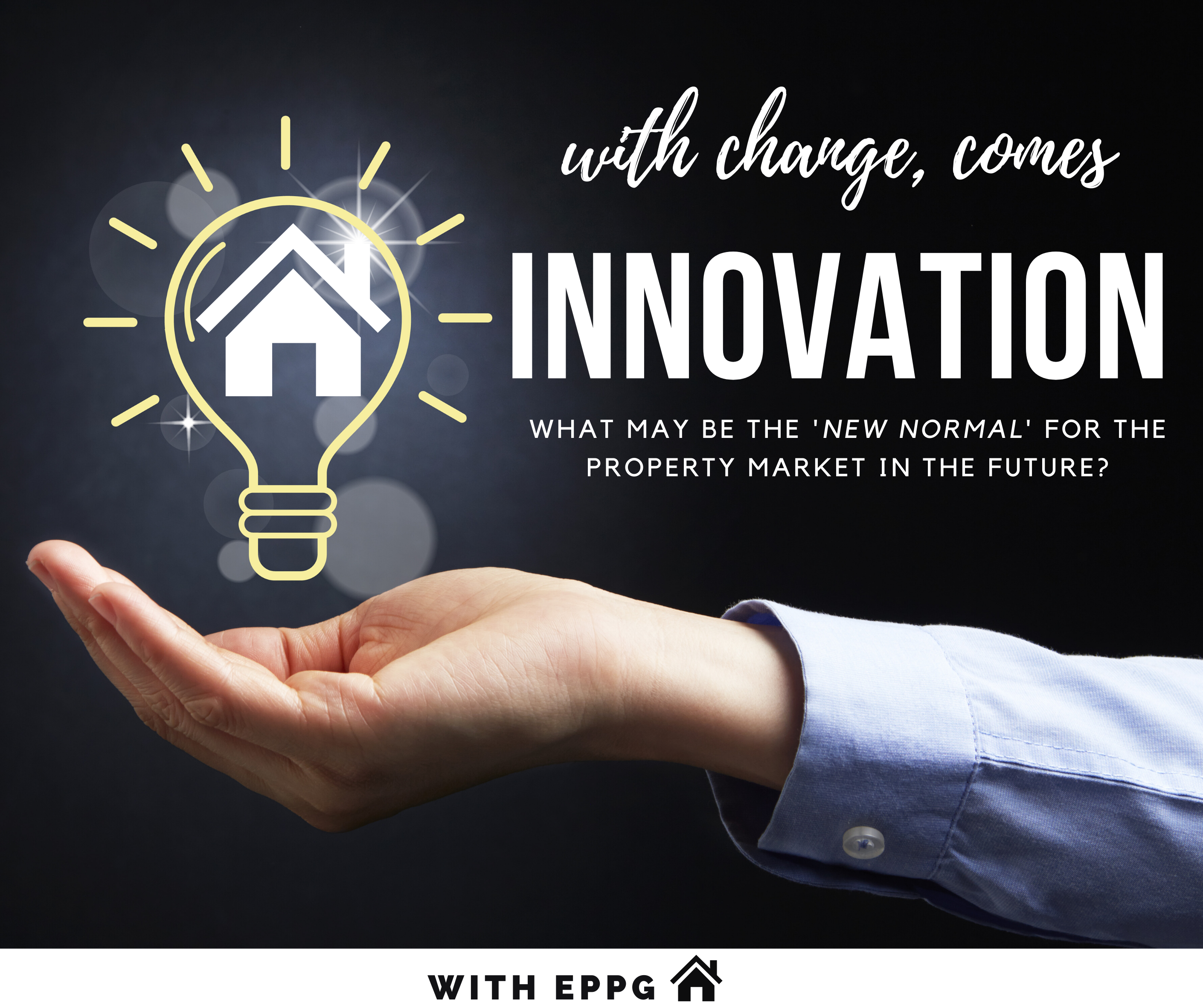 Try to think of one business that has not been impacted globally by the effect of the COVID-19 pandemic in some shape or form – I bet you can't.
It's unavoidable that we have all been impacted and Solicitor Estate Agents in Edinburgh and the Lothians are no exception however EPPG firms adapted rapidly to adhere to the necessary social distancing measures and ensure the safety of clients, staff and stakeholders whilst – crucially – still providing a service to clients through innovative means.
Solicitor Estate Agents are operating in a competitive client service focused industry and EPPG firms have been working pro-actively around the clock to continue to provide a highly adaptive, innovative and good service to clients remotely from home.
This week, we look back on lockdown activity that we are seeing from the forefront of activity in the market and report on how we see the property market adapting to the "new normal" when lockdown restrictions can be safely lifted with comments from photographers, surveyors and removal companies.
Current activity – what's happening?
EPPG firms have dealt with over 100 virtual or desktop valuations, accepted 75 offers, dealt with over 4,813 property enquiries and had 95,799 page views to their collective websites since lockdown began.
EPPG have adapted quickly and well to offer virtual viewings and valuations by innovative video methods and there is clear engagement there. ESPC research shows that properties with virtual viewings in place achieve four times the level of interest than properties without virtual viewings.
There is evidence that with each week that passes whilst in lockdown, activity is on the rise. EPPG are also noticing a week on week increase of up to 40% in terms of new users when comparing last week with the previous week. In particular, "buyer" information pages have seen a 50% increase last week compared to the previous week.
The level of buyer activity bubbling beneath the surface indicates that when it is safe to ease on lockdown restrictions, the market should pick up rather quickly because right now – we are dealing with hundreds of enquiries daily.
"The New Normal": Adaptations and considerations moving forward
As time passes it is evident lockdown will not simply be lifted "at the flick of a switch" but eased in phases as a consequence of the very necessary considerations of health and safety.
It is expected that the changes in our work practices will remain in force for some time and will further evolve as the restrictions are eased and the market adapts. It is also crucial that sellers and buyers look to work with firms that have their finger on the pulse of this current market and have been working well to innovate and provide a service to their clients.
Goodbye open viewings, hello virtual viewings
Open viewings are simply a thing of the past for now and innovative virtual tours will be in place for the foreseeable future. Necessity is the mother of invention and virtual tours have proved to be an invaluable benefit to both buyers and sellers.  Prospective purchasers are able to browse many properties virtually from the comfort of their home before deciding if it's on a clear shortlist.  Sellers have an incredibly useful additional marketing tool at their disposal in the new age. Remember, those with virtual tours on ESPC.COM are seeing four times the level of engagement. Of course, the success of the virtual viewing will depend on the quality of the content so professional photography and videography will be key going forward.
We spoke to Michelle Milnes, Company Director of Property Studios, to get her take on the future of innovative property marketing and how they see themselves operating in compliance with the requirements of  social distancing:
"To get the best results from your property photo shoot, and to protect both you and our photographer, we have assembled some handy tips on what to expect during your shoot. The shoot will still be scheduled at a time and date which suits you. Since a maximum of one person can be present at the property during the shoot, please pick a time when the rest of the household will/can be out. The photographer will wear a facemask and disposable gloves throughout the shoot. Strict social distancing measures will be in place, and our photographer will always remain at least 2 meters away from you. Please bear in mind that your property will need to be 'shoot-ready': all clutter should be cleared both inside and out, as the photographer will not be able to touch any items. Should the photographer notice an item which needs moving, they will politely ask you to do this for them.
We have introduced a range of extra and innovative products to allow prospective buyers to view your property from the comfort and safety of their homes. These include video tours, live streamed viewings, 3D Matterport tours, and even virtual staging for empty properties."
EPPG firms – Warners, Deans, VMH and Neilsons – all have professional offerings to sellers in this regard and it's important now more than ever that sellers instruct a firm that is pro-active and able to provide the new range of marketing facilities that will be essential when selling in the future.
Valuations and surveys – completed with health and safety at the forefront
The social distancing measures and protective equipment will be in place for Property Valuers and surveyors also, so that valuations and Home Reports can be safely carried out.
Kevin Murchie, Partner at Graham + Sibbald surveyors, said:
"We know there is pent up demand bubbling beneath the surface for residential Home Report surveys in Edinburgh and the Lothians however the vast majority of surveys have been put on hold for the time being as we adhere to the government guidelines which we completely support. Whilst the property market has undoubtedly entered sleep mode due to restrictions imposed, there still appears to be reasonable underlying demand. We are awaiting further government guidance and look forward to returning to some form of normality in the not too distant future when it is safe to do so."
What about physical in person viewings?
Physical in person viewings will be permitted in the future, but they will be much changed from pre-lockdown. Firms will need to be pro-active in "vetting" all buyers from a health and safety perspective in advance of any viewing and sellers will have a duty of care to notify the selling agent if anyone is ill or having to self-isolate for whatever reason in the household.
If it is safe for viewings to take place, sellers will likely have to open all doors in the property and distance themselves from the buyers (probably outside), the number of visitors will be limited and so will the time for the viewing, with protective equipment such as face coverings and gloves encouraged with no touching of anything inside the property to take place.
And what about removals?
This is crucial to the operation of property moves but thankfully, removal companies like Mint Box Removals have been fast acting to put a health and safety plan in place. David Cran, Founder of MintBox Removals based in South Queensferry said:
"We are implementing lots of preventative measures to protect our staff and clients to ensure a safe and effective service going forward. For example, all property estimates will be carried out using remote video surveys as opposed to face to face evaluations to minimise social interaction, all removal vans will have hand sanitisers, anti-bacterial wipes and a disposal facility. Covid-19 specific toolbox talks will be implemented prior to each move being carried out and staff will be working in teams of two wherever possible with correct PPE provided in vehicles. Strict social distancing measures will be followed inside of property and clients will be asked to keep their distance while moves are taking place."
What does the future hold for the Edinburgh and Lothians Property market?
As we have stated before, nobody has a crystal ball (unfortunately!) and making bold claims about the future of the market would be both bullish and foolish at this stage however there is some evidence to suggest there is light at the end of the tunnel for the property market.
Firstly, our statistics and evidence in recent weeks illustrates strong seller and buyer demand. We have a whole host of properties ready to go on the market once it is safe to do so also, and our evidence shows that thousands of buyers are still out there, accessing local property pages and making enquiries.
Secondly, Edinburgh is a remarkably resilient market. Edinburgh has been deemed to be in a strong economic position and is predicted to be the top city – outside of London – to make a fast-economic recovery following the disruption to services across all industries.
Thirdly, there are many reasons why people need to move home: downsizing, upsizing, relocating (searches in Edinburgh for more rural properties has increased during lockdown!), schooling requirements, separations, first time buyers and all these needs still exist as we move into the "new normal" for society and the property market.
In addition, we are seeing a new flux of "coming soon" properties that were previously short-term Air BnBs which will be welcome news for buyers – particularly first-time buyers – who have found the property market extremely competitive in recent years.
The difference? As well as recognising that social distancing measures and health and safety will remain at the forefront for the foreseeable future – now, more than ever, you need to choose a highly pro-active and adaptive firm to help you sell and/or buy that is innovative and has access to a wide range of tools at their disposal to assist both buyers and sellers alike – and quickly.
EPPG firms – Warners, Deans, VMH and Neilsons – have proved that  they are well placed to assist local sellers and buyers swiftly thanks to the advantages of our innovation, cloud based IT systems, online ID and compliance verification systems and remote telephone and banking facilities – not to mention our fantastic teams that are dedicated to client service!
Get in touch for helpful and friendly advice. 
Book a free telephone or video consultation with Neilsons online here