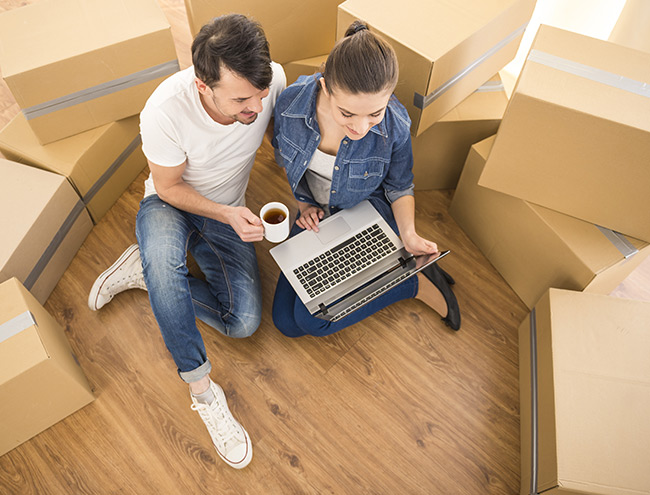 In the four years preceding 2022, an average of 12.4% of properties sold through the ESPC, (the majority of properties sold in Edinburgh & the Lothians), were advertised for sale at a Fixed Price.
In 2022, this figure was down to just 8.9% between January and October, thanks to an unprecedented demand for property in the area due to the pandemic, re-assessed home needs, and supply continuing to outstrip demand. During this time, the bulk of properties have been advertised and sold at "Offers Over" prices.
As the market calms following recent political and ongoing economic uncertainty, "Fixed Price" has become more of a feature again, with approximately 28% of properties advertised in Edinburgh & the Lothians on espc.com currently offered at a Fixed Price, which is a significant shift in pricing behaviour for the end of the year
So what are Fixed Prices, how do they work and are they really 'Fixed'?
There are two main pricing strategies used within the Edinburgh and Lothians market; the now standard "Offers Over" or the alternative "Fixed Price".
The price structure "Offers Around" was popular when Home Reports were first introduced in Scotland, but in recent years it has been rare in the local market to see properties advertised as "Offers Around" or similar, not least because it confuses buyers as a pricing strategy they are not accustomed to seeing or understanding what  "Offers Around" actually means.
In many cases, properties marketed as "Offers Over" could be marketed from £5,000 to £25,000 below the Home Report valuation in order to attract as much interest as possible. Agents consider the Home Report valuation when recommending the "Offers Over" figure and apply their extensive market experience in recommending the correct level for marketing. The ideal situation using this form of marketing price structure is for several parties to be interested in submitting an offer, in which case a competitive Closing Date would be set, and the price achieved is normally in excess of the Home Report valuation.
The second most-used strategy is marketing at a "Fixed Price". Fixed Price means in theory that the first offer received at that price would be accepted if agreement could be reached on other issues, principally Date of Entry. You do not have to accept an offer at the Fixed Price if there are conditions attached that you don't like.
The Fixed Price strategy works best if you have a property where there is a "book price" for the property and there is very little likelihood you would receive an offer in excess of that price e.g. a new build property sold by a developer.
A Fixed Price will sometimes secure a quicker sale if the property has been on the market for a while at an alternative price structure without interest from buyers. However, going to a Fixed Price means that you are unlikely to achieve a price in excess of that. Indeed, you may end up with less.
Unless there is a specific reason to do so, such as personal circumstances, a property which is likely to be popular should never be advertised at a Fixed Price straight away. You may end up with several quick offers all at the Fixed Price when you could have fixed a Closing Date and achieved a far greater price at "Offers Over".
Fixed Price properties are normally dealt with on a "first past the post" basis. If two offers are received on the same day for a Fixed Price property, although there is no legal obligation to do so, the convention is to exhaust the negotiations with the first party to submit an offer and if agreement cannot be reached perhaps on  the entry date or if the first offer is subject to sale, then we would deal with the second offer. As you see, purchasers  have to move quickly with a Fixed Price offer!
A recent poll by Neilsons showed that the majority of Edinburgh property-watchers are familiar with the Offers Over system and 38% guessed correctly that the current average amount paid over asking price for an ESPC listed property is 12.2%. They were closely followed by 35% of respondents actually believing the average to be 14.6%!  Property is subject to the same law of economics as any other item. If you drop the price the demand goes up, but as you increase the price the demand diminishes. Even if the property itself and the marketing materials are perfect, too high an asking price or Home Report value can have a negative impact on the success of a property on the market, which might lead to a necessary change to the pricing strategy. Some of our competitors will give potential clients a high assessment of what the property will achieve to try to win the business but inevitably these properties will stick on the market before eventually selling at its true value after several weeks or months with no takers at an overstated price point.
Is there something wrong with Fixed Price properties?
Almost certainly not! Like any property marketed for sale in Scotland, Fixed Price properties will have a Home Report available to buyers detailing the condition and market value of the property as decided by a Chartered Surveyor. Remember that property valuation is not an exact science – to arrive at the value in the Home Report, which is essentially the value suitable for a bank to take a risk on when a buyer has a mortgage on the property, the surveyor will have looked at recent comparable sales prices, buyer demand and market trends as well as the condition of the property both internally and externally.  In a market that has been moving as quickly as Edinburgh over the past couple of years, this has been a tricky job as comparable sales evidence is often three or more months out of date by the time the sales data is available to the surveyors. This is one of the reasons why we've seen big jumps between Home Report values and end selling prices. As the market calms and supply and demand rebalance a little, the difference between value and end selling price should shrink.
It is often said that "property is worth what someone is prepared to pay for it", but it's not quite that simple where mortgages are involved. Before the banks will lend, they have to be sure that if the buyer was to default on their mortgage payments and the house had to be sold, they could get their share of the investment back.
Fixed Price properties don't tend to hang around on the market. Sellers often market their properties at a Fixed Price because they need the sale to progress quickly, perhaps because they have another property purchase to move on to or because of their personal circumstances. They need just one buyer to decide they like it and will pay for it, not parades of viewers collecting interest to move to a bidding war. Lots of buyers, having had their fingers burnt missing out on properties at closing dates, will search solely for Fixed Prices, appreciating the transparency of the strategy, so Fixed Prices can work for everyone.
Can you offer less than the Fixed Price?
Whilst most Fixed Prices will sell for exactly that, it's not uncommon for buyers to offer less than the Fixed Price for a property, especially if it has been on the market for a long time. Fixed Prices are most often pitched at or close to the Home Report value, so if it's been properly promoted to the open market at Offers Over and not sold, it could be that there is either a fault with the property or that the Home Report value is simply too high. It is always worth consulting with a professional when deciding what to offer for a property, our solicitors at Neilsons offer that advice free of charge, so you can be confident that the offer you are submitting is a sensible one. Neilsons have a unique piece of software which we developed in house which allows us to show our clients what any particular property is likely to go for on the basis of archive records for similar properties and calculations of what other people may offer for it.
There's also scope for negotiation, so if you do decide to offer less than the Fixed Price, the sellers have an opportunity to respond, either requesting the Fixed Price as advertised, or suggesting a figure they would accept that makes their home sale possible.  If you're really keen on buying the property but can't make the figures stack up, then there's no harm done in suggesting what you could or would pay for it, good solicitors won't charge you for submitting sensible offers, so there's really nothing to lose. A word of warning though – if you offer less that the fixed price and someone else comes along and offers the fixed price out of the blue, you will lose out – a closing date will not normally be set with a fixed price property.
Neilsons are currently offering a superb selection of properties for sale at Fixed Prices. If you like one, then be quick! Demand is still outstripping supply in Edinburgh & The Lothians and these homes, offered for sale in a straightforward and transparent way, won't stick around for long.
Click here to use our Property Search function, and see if any of our properties for sale match your criteria.
If you've got questions about buying a Fixed Price property then our experienced and award-winning legal team are here to help!
Book a free consultation with Neilsons here!