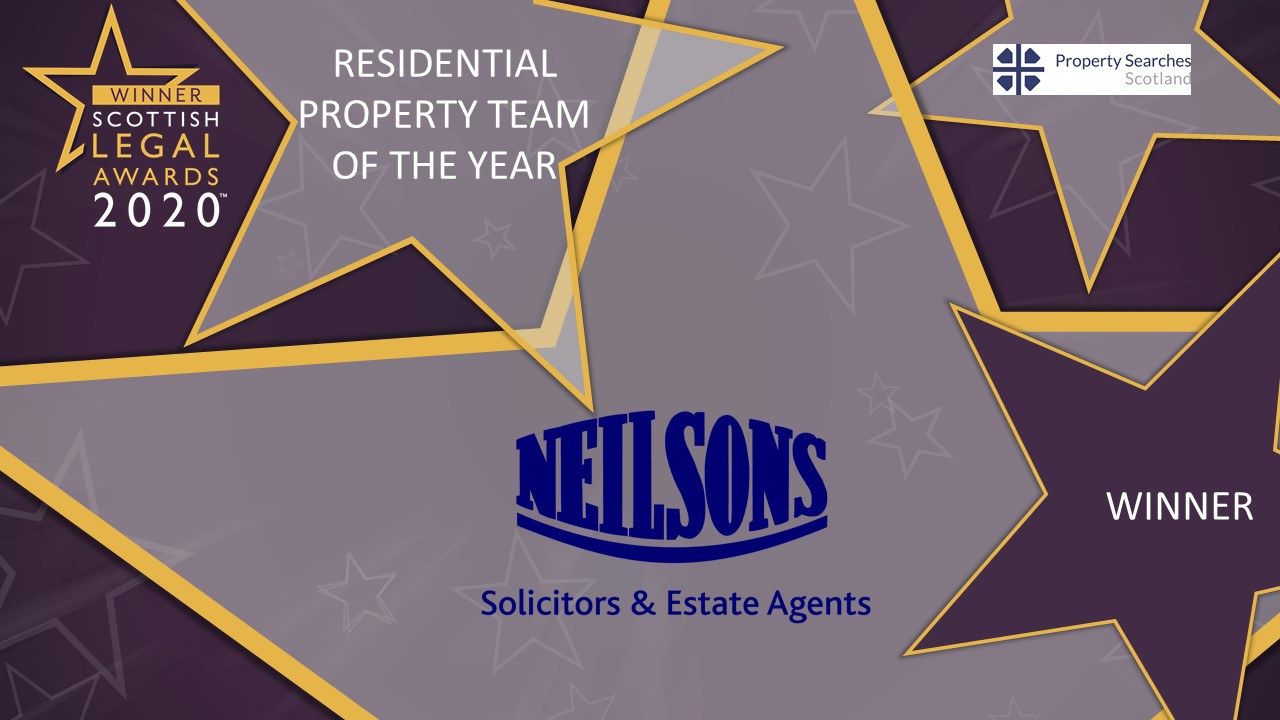 The best businesses, teams, and individuals in Scottish legal practice across the country were crowned at the 17th annual Scottish Legal Awards on Wednesday 4th November 2020 and we are delighted to confirm that Neilsons Solicitors and Estate Agents were awarded with the 'Residential Property Team of the Year' 2020 title!
The independent competition is judged by a panel of experts drawn from across the sector, bringing together industry experience and market knowledge to recognise the greatest achievements in the legal industry from across Scotland.
A total of 48 Scottish firms and organisations entered the competition and following a robust debate, 14 individuals and 32 teams were shortlisted and winners selected in another strong year for the independent competition.
The category of Residential Property Team of the Year recognises innovative and forward-thinking property teams, who can demonstrate market insights and knowledge and a pro-active, first-class service to clients. Finalists and competitors included McDougall McQueen, Gilson Gray and Watermans.
Neilsons were selected as winners.
Des Clarke, the engaging and entertaining host of the virtual Scottish Legal Awards, confirmed that the judges advised "Neilsons entry was an extremely impressive winning entry" and they praised Neilsons as a "long-established firm that are innovating through technology." The Judges further added: "For the size of business, Neilsons are going that bit further and giving back more to their local area. This was evidenced with statistics and great growth figures." Following our award win, our Operations Director Jenna Spence was interviewed by Des Clarke live during the awards ceremony.
Jenna Spence, Operations Director, said: "We are absolutely delighted that Neilsons have won "Residential Property of the Year" 2020 at this year's virtual Scottish Legal Awards.
In recent years in particular, the Neilsons team have proven their dynamism, innovation and pro-activeness and this award is a real testament to our hardworking team in both our estate agency and conveyancing departments who endeavour to provide a first class service to clients at all times.
Whilst we couldn't celebrate under usual traditional terms, the team behind the awards at KD Media and Des Clarke really pulled all the stops out to ensure an engaging and interactive award ceremony; which we all really enjoyed.
We look forward to continuing to provide an innovative, pro-active and first class service to clients moving forward. There are exciting developments on the drawing board.
Watch this space!"
Book a free telephone consultation with Neilsons online here