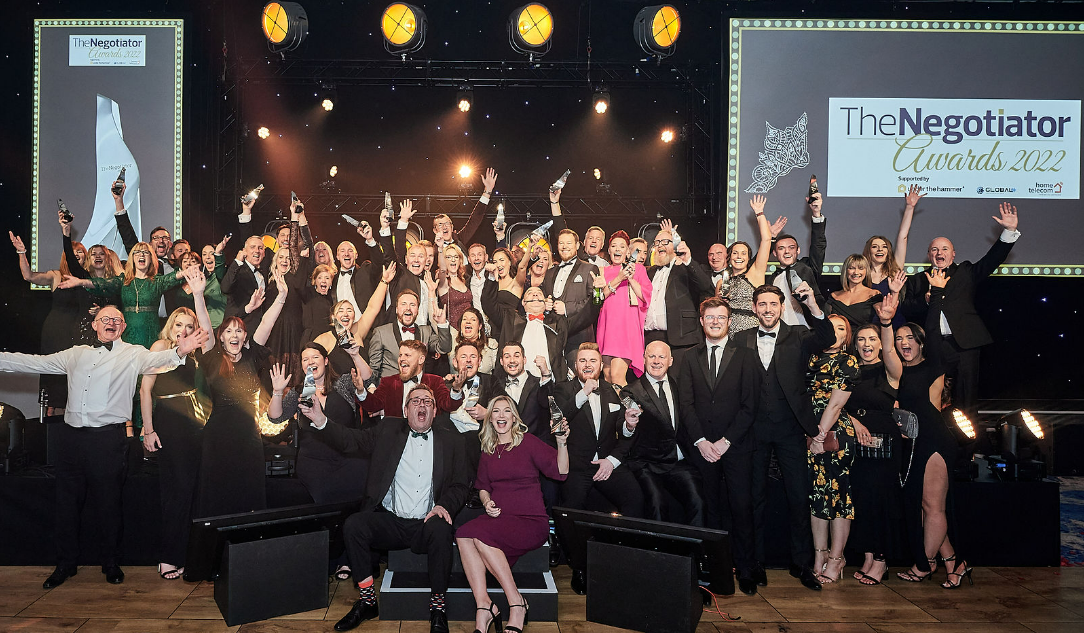 Neilsons were delighted to be awarded gold at The Negotiator Awards in London on Friday 25th November 2022, scooping the top award for 'Scottish Agency of the Year'.
The Negotiator Awards is the leading awards programme for estate and letting agents in the UK and their suppliers. Hosted at London's premier venue,  The Grosvenor House Hotel on Park Lane in Mayfair, over 950 guests and finalists from every corner of the UK gathered for the awards presentation ceremony and gala dinner hosted by comedy actor Stephen Mangan.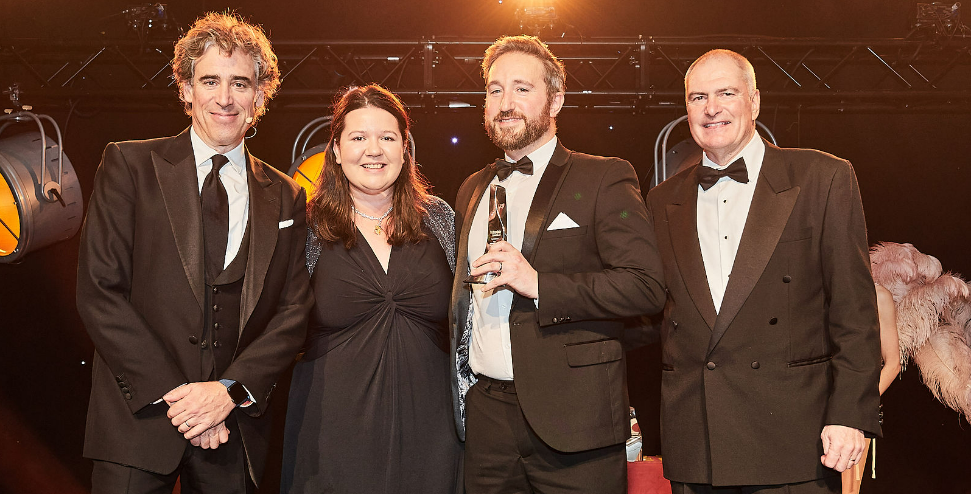 2022 has been another year of record entries to the Awards with hundreds of entries, reflecting again an extremely high standard of entry.  Winners of 33 categories were awarded with trophies and commendations were handed to 93 agencies and suppliers on the night. Stephen was joined on stage by The Negotiator publisher, Grant Leonard. After announcing the 2022 winners, Grant stated:
"This has been a great evening of excitement and celebration, seeing the best in the business recognised and rewarded. The significance and importance of the Awards should not be underestimated, they prove that the industry is thriving and positive, and we can't wait to see what success 2023 brings".
Neilsons were shortlisted with seven other Scottish finalists from all over Scotland and won Gold on the night with our Director of Property Services, David Easton, and Operations Director, Jenna Spence, collecting our trophy presented by Stephen Mangan.
The judges said our entry was "a really strong entry from a really strong business, with excellent technology designed for the consumer. Neilsons demonstrated impressive growth and conversion rates. The judges loved how Neilsons look after their team, and all of Neilsons' success is measurable via clear metrics".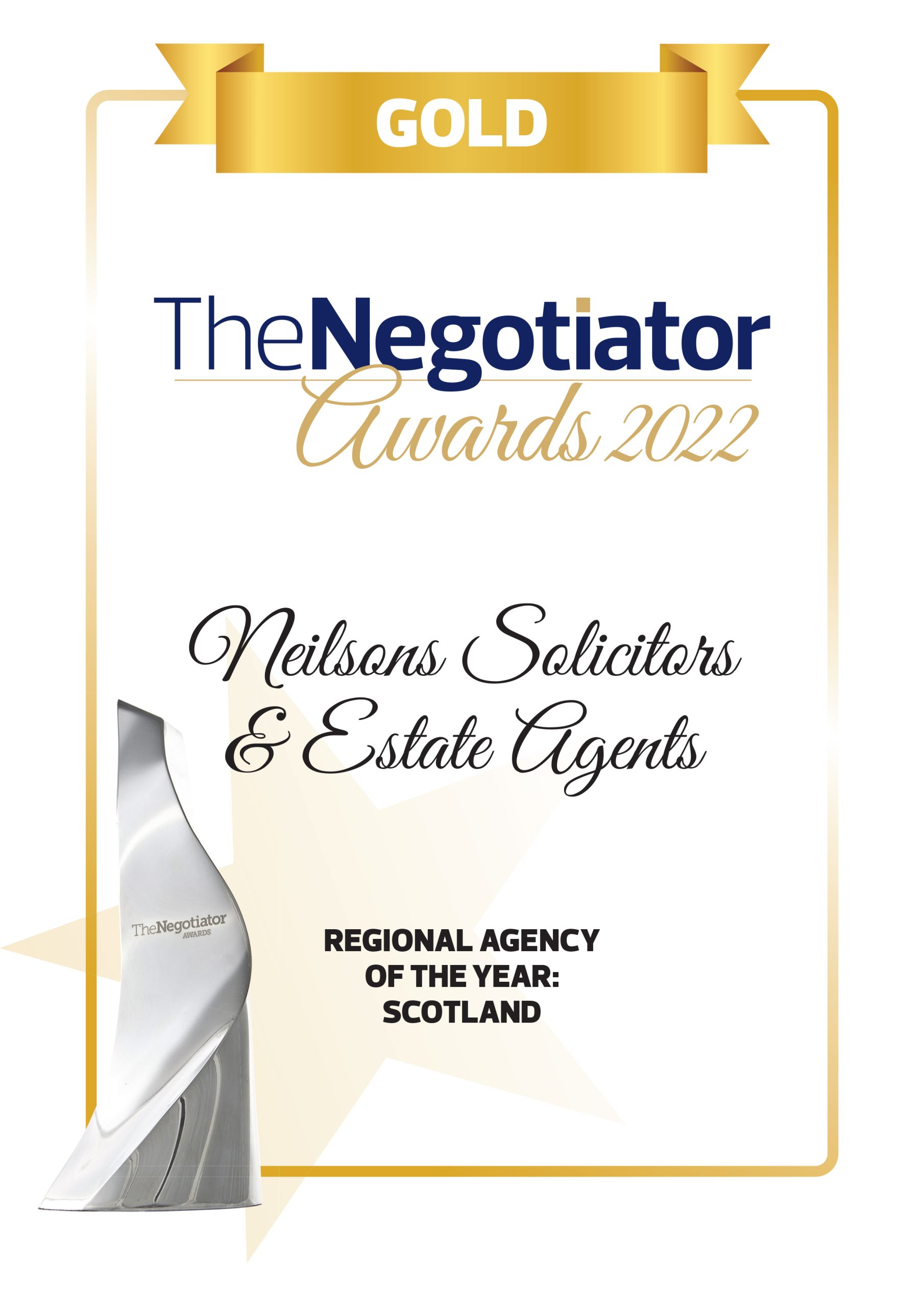 David Easton, Director of Property Services at Neilsons Solicitors and Estate Agents said:
"We are absolutely delighted to win 'Best Scottish Agency' at The Negotiator Awards 2022. The awards celebrate talent in the property industry across the length and breadth of the UK and it is always an honour to be involved.
Neilsons continue to work incredibly hard to support our clients in exciting and innovative ways, so it is excellent to see the team's hard work and remarkable achievements be recognised on both the local and national stage.
This trophy rounds up another amazing year of top industry recognition at the highest level for Neilsons, after winning 'Residential Property Team of the Year' for the third year in a row, 'Excellence in Client Care' and Aidan Tuohy winning 'Rising Star' at the Scottish Legal Awards in September.
We can't wait to deliver even more in 2023 and beyond for our clients and would like to thank all of our clients for choosing Neilsons this year."
Thinking of selling and/or buying in 2023? It is never too early to start planning and the process can be started in December so you are ready to hit the ground running in January.
If you would like to find out more about the award-winning service we offer here at Neilsons, please do get in touch.
Book a free consultation with Neilsons here!