Neilsons Solicitors and Estate Agents are delighted to have been confirmed as finalists in four categories at this year's Scottish Legal Awards which celebrates excellence in the Scottish legal profession: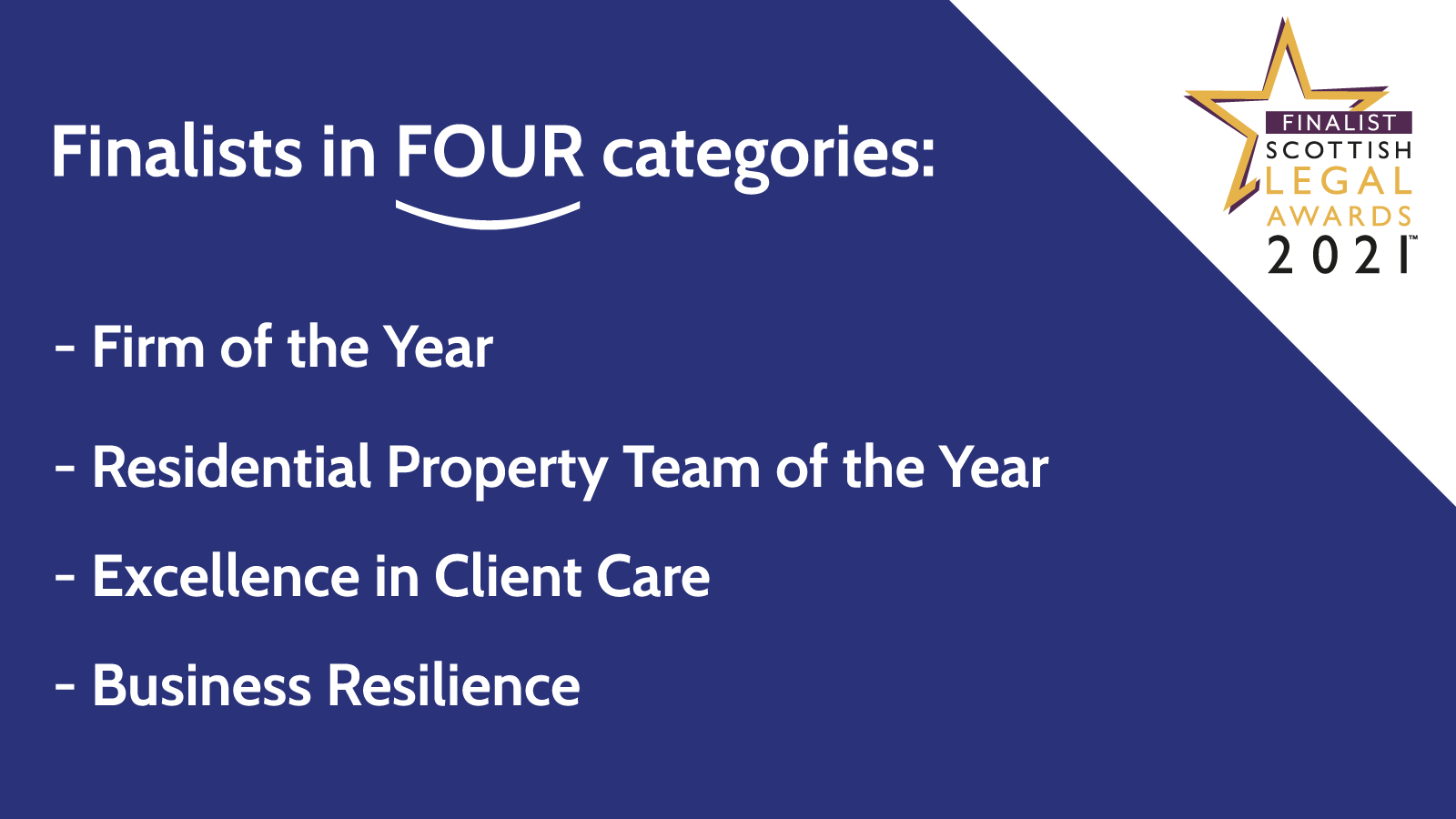 The independent competition is judged by a panel of experts drawn from across the sector, bringing industry experience and market knowledge to recognise the greatest achievements in the legal industry from across Scotland.
The judging panel met last month to review more than 60 entries received from 43 organisations from across Scotland.
Shonaig Macpherson CBE, Chair of the Judging Panel, commented:
"This year, and more than ever, the entries for the Scottish Legal Awards have highlighted the strength and resilience of our legal sector. Despite challenges from the global pandemic, entrants have provided us with numerous examples of creativity, innovation and inspirational support to both clients and staff throughout the pandemic.
"It has been rewarding and inspirational to learn about the diversity of responses across the Scottish Legal Sector. On behalf of the judging panel, I offer our heartfelt congratulations to the finalists and look forward to recognising their many achievements in September."
This year, the event will be staged as a hybrid event with a digital broadcast planned alongside a live event which is scheduled to take place on Thursday 23 September 2021 in Glasgow.
Jenna Spence, Operations Director at Neilsons Solicitors and Estate Agents, said:
"Neilsons are delighted to be confirmed as finalists in four categories at this year's Scottish Legal Awards.
The Scottish Legal Awards recognise legal and business excellence nationwide and to be finalists in the Firm of the Year, Residential Property Team of the Year, Excellence in Client Care and Business Resilience categories is a testament to the strength of Neilsons as a top Solicitor Estate Agency in East Central Scotland and a credit to the hard work of our team over the past year.
Our team have worked tirelessly, innovatively, and pro-actively to ensure our clients have received a top-class service despite the various hurdles the pandemic presented the market with. We are delighted that their achievements have been acknowledged alongside our approach to client service, innovation, social media, and property marketing.
We are finalists amongst many other talented firms in every category, and we wish every nominee the very best of luck in September."
The full list of finalists can be found online here.
Book a free telephone consultation with Neilsons online here