The Scottish Legal Awards, a hugely respected annual event recognising excellence in the Scottish legal profession, has announced its finalists for its 20th year.
Among the distinguished nominees, Neilsons are thrilled to reveal that we have been confirmed as finalists in four categories, reaffirming our position as a top Solicitor Estate Agent in East Central Scotland assessed by the highly regarded and experienced independent judges that comprise the Scottish Legal Awards' panel.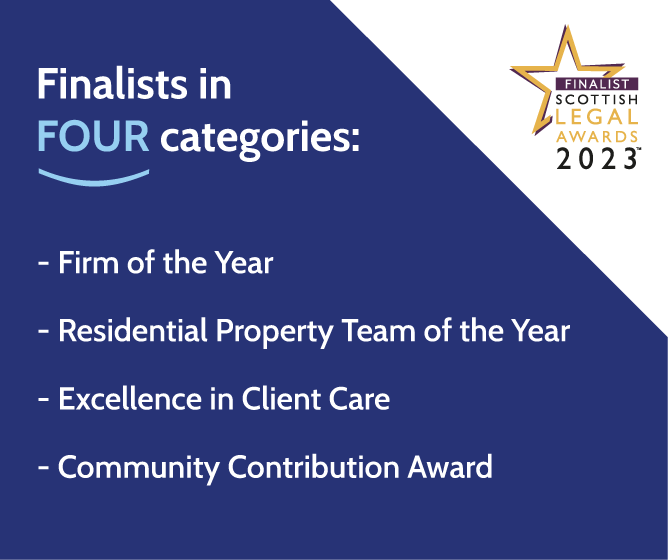 Jenna Spence, Operations Director, said: "We are absolutely thrilled to be finalists in four prestigious categories at the Scottish Legal Awards 2023 – with this being the sixth year in a row that Neilsons are finalists and the third year in a row that Neilsons have been finalists in four categories.
It reflects the dedication and expertise of our firm and innovative residential property team, our unwavering focus on providing exceptional client care, and our ongoing efforts to make a positive impact in our local community.
I am incredibly proud of my colleagues and our entire team as this recognition is a testament to our commitment to excellence in every aspect of our work. It's an immense achievement to be finalists once again at The Scottish Legal Awards and we would like to thank the judges for the recognition in multiple categories. 
We also would like to extend our best wishes to all fellow finalists. These awards also recognise the talent and dedication of our peers, and we look forward to celebrating everyone's achievements together in September."
Chair of the Scottish Legal Awards judging panel and former CEO of the Law Society of Scotland, Lorna Jack, commented:
"The purpose of the Scottish Legal Awards is to honour Scotland's leading legal teams, and individuals who work across a diverse profession which truly deserves recognition for some outstanding work.  Working with colleagues on the judging panel, we have been impressed by the strength and depth of the profession.  Entries have demonstrated excellence in a wide spectrum of activity during a year of historic cases and ongoing innovation to help clients.
The fact that the finalists not only excelled in their respective fields over the year, but also won over the judges with their insightful and in-depth applications, should fill them with great pride. We wish everyone boundless success and look forward to celebrating the great accomplishments in the Scottish legal profession at the 20th anniversary of the Scottish Legal Awards in September."
The winners of the Scottish Legal Awards 2023 will be announced at the annual dinner, to be held on Friday 29th September 2023 at the EICC in Edinburgh. The event, hosted by Des Clarke, promises to be an evening of celebration and recognition for the outstanding achievements in the Scottish legal profession this year.
The awards raise funds for two nominated charities; LawScot Foundation, which supports students in pursuing a career in law and It's Good 2 Give, which supports young cancer patients and their families in Scotland.
The full list of finalists can be viewed here. 
Book a free appointment with our team today!