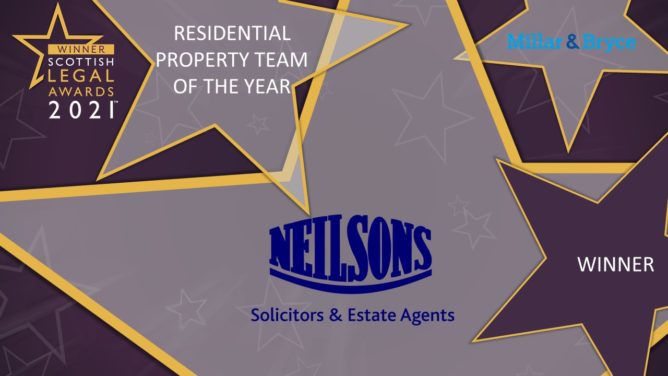 The best performing individuals, teams and firms in the Scottish legal profession were revealed at the national awards celebration for Scottish law held in Glasgow last night and we are delighted to confirm that Neilsons Solicitors and Estate Agents were awarded with the 'Residential Property Team of the Year' 2021 title for the second year in a row, in addition to being Highly Recommended by the judges for Business Resilience.
The Scottish Legal Awards is the national celebration for achievements in Scottish law and the legal industry.  Now entering its 19th year, the programme is regarded as a much trusted and independent platform to recognise and reward achievements.
The judging panel of 11 senior figures from the law met last month to review more than 60 entries from 43 organisations across Scotland.
Chair of the judging panel, Shonaig Macpherson, commented:
"This year's Scottish Legal Awards has been a reassuring reminder that the Scottish legal system is truly world class.  In a year in which the pandemic threatened not just our way of working, but also the integrity of the justice system, our award winners have shown us the way through some dark days.   We have seen creativity, innovation, inspiration, and a commitment to care about the wellbeing of staff, colleagues, and clients. Congratulations to all our finalists and winners this year and I hope they can enjoy the celebrations."
The category of Residential Property Team of the Year recognises innovative and forward-thinking property teams, who can demonstrate market insights and knowledge and a pro-active, first-class service to clients. Finalists and competitors included McDougall McQueen, Anderson Strathern and Gillespie McAndrew.
Neilsons were selected as winners.
Des Clarke, the engaging and entertaining host of the Scottish Legal Awards, confirmed that the judges advised "Neilsons are a long-established firm that are innovating through technology and are clearly focussed for their clients". Following our award win, our Operations Director Jenna Spence was interviewed by Des Clarke live during the awards ceremony.
Jenna Spence, Operations Director, said: "We are absolutely delighted that Neilsons have won "Residential Property of the Year" 2021 at this year's virtual Scottish Legal Awards, for the second year in a row, in addition to being Highly Recommended for Business Resilience.
Despite the challenges that have arisen because of the pandemic, the entire Neilsons team have worked incredibly hard to support our clients and come up with new innovative ways of working and I am delighted that their achievements have been recognised.
The team behind the awards at KD Media and Des Clarke really pulled all the stops out to ensure an engaging hybrid award ceremony, which we all really enjoyed.
We look forward to continuing to provide an innovative, pro-active and first class service to clients moving forward. There are even more exciting developments on the drawing board than last year.
Continue to watch this space!"
Book a free telephone consultation with Neilsons online here