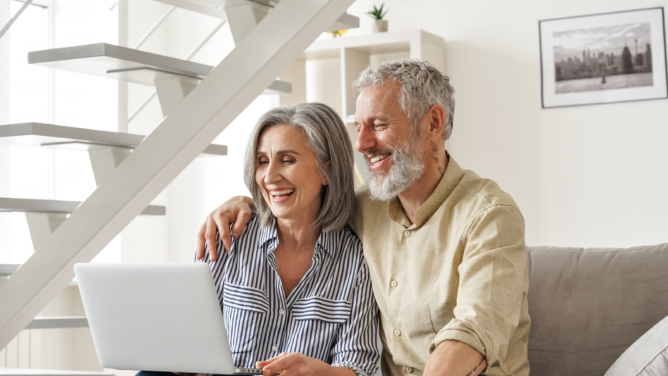 At Neilsons, we love being a part of the journey our clients take with their homes. Since we opened in 1977 we've helped tens of thousands of first time buyers secure their first step on to the property ladder then we have helped them upwards as their needs have changed and families grown. Frequently now, we help those same clients as they look to downsize from their family home over 40 years later!
Deciding to move home, whatever stage you're at in life, can seem a daunting process. Quite often the motivation to move comes from a need to have more space, so downsizing to a smaller, more manageable property can create stress over what to do with all the belongings you've filled your home with. Fear not! Neilsons have the answers!
Thorough Decluttering and our free Appraisal: The First Steps in Downsizing
One of the first steps we'd recommend is to start the downsizing process with a thorough declutter. This can be a cathartic step when it comes to making peace with the idea of moving. Boxing up the personal items you want to take to your next home, like treasured family photographs or personal mementos will help stage your property so potential viewers can imagine themselves living there.
Removing excess items of furniture will help show rooms to their best advantage, and giving each room a clearly defined purpose is really useful step. Our expert team of Property Valuers can help guide and advise you on this process, and even recommend auction houses, charities or clearance people who can help.
Before you start this process, we'd really recommend booking our FREE no obligation pre-sale appraisal appointment so our team can help guide you with the best things to do that will optimise the sale potential of your property. You don't have to be ready to sell, and your home doesn't have to be presented immaculately for our team to visit. They offer house doctoring and home staging advice free of charge as standard. Not all agents offer this as standard as part of a property appraisal, but at Neilsons we do. If the job of getting the house ready is too much to take on personally, then they can put you in touch with the excellent team at Life/Edit who can take on the decluttering for you if you so wish.
The importance of presentation
Property doesn't need to be hyper modern or 'state of the art' to sell well, but it does need to be clean and well-presented. Once the decluttering and depersonalising is completed, a deep clean of the property including inside cupboards and storage spaces will help your photographs and marketing materials stand out from the crowd, attract buyers online and set viewings off on the right foot. Again, we can recommend cleaning companies who could assist, if needed. Minor repairs to the property will help it sail through the Home Report inspection and will give buyers peace of mind that the property has been maintained. Making sure cupboard hinges and handles are intact, mastic sealant around the bath, shower or sinks is in good condition, and attention to the condition of windows, gutters and drains are all areas worth your time and attention. Consider the kerb appeal of the property, a freshly painted front door can make an excellent first impression.
Generally, we would not suggest taking on major works to the property prior to selling. Your Home Report valuation will be reflective of the condition of the property and you're unlikely to add significant value for the time and upheaval involved. Our professional valuers will guide and advise you what is worth doing. Remember, most buyers looking to make it their own family home will want to put their own stamp on the accommodation and may even look to adapt the layout or extend the property for their needs. Fresh, unfussy décor, a lick of paint in a neutral colour and thoughtful staging is usually enough to help buyers see the potential.
'Should I buy or sell first?'
Once your property is ready to go on to the market, the $64,000 question tends to be "Should I buy or sell first?". In most house-move scenarios, if you can sell first, this strengthens your position as a buyer and gives you a very clear financial picture of what you can afford to buy. This can feel like a giant leap of faith when you don't know if what you'd want to move to is available, and the cost is often not as relevant when downsizing as it can be when moving up the property ladder.
There are two main options, then:
Sell first and we can negotiate a long date of entry. Our skilled team of professional negotiators are adept at arranging a timescale that will give you the breathing space you need to find your next home.
The second option is that we carefully prepare your marketing materials, so the property is ready to launch on to the market swiftly once the right purchase property becomes available. This means offering on the next property "subject to sale" but means we can highlight the selling potential within your property to the sellers of the one you want to buy, proving that we're ready to go and potentially putting your offer a step ahead of other "subject to sale" offers that are not so prepared. If you are fortunate enough to be in a position to buy the next home without needing the funds from the sale of your current home, then buying first can be the most relaxed process, however there are significant tax implications to this and we'd advise discussing your plans carefully with one of our experienced conveyancers to make sure you're fully aware of the tax burden & potential to reclaim that tax. For more detailed information on selling or buying first, visit our website.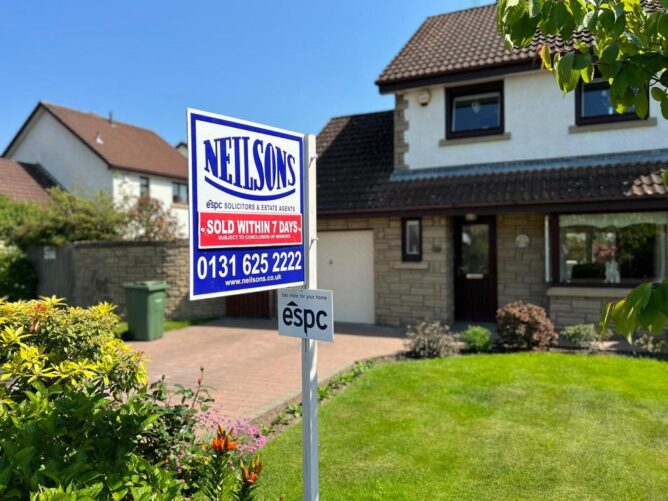 The smooth and stress-free selling process with Neilsons
The selling process with Neilsons is designed to be as smooth and stress-free as possible. We have unique, highly user-friendly technology that means the whole sale process can be taken care of from the comfort of your own home but we never lose the personal, friendly touch that has been the hallmark of Neilsons since our inception. We welcome you to meet with our team face to face at one of our conveniently located offices across Edinburgh and the Lothians, or we can send one of our friendly team out to meet with you at home.
Considering the Suitability of your Next Home
When it comes to buying your next place, the things we'd recommend considering are the suitability of the property longer term – is it suitable if your mobility deteriorates? Does it offer the space that you'd want and use? Sometimes considering fewer bedrooms in favour of additional reception space can broaden your search. Is the location convenient for shops, amenities and transport links should you choose to give up driving? Does it have manageable outside space that still enables you to enjoy a garden without that being a burden? Perhaps a property with a shared and maintained garden would negate the need for a private garden.
Free Initial Consultation – Make Informed Decisions with Neilsons
As a first step, we'd suggest discussing your needs with us and we can help pose the questions you'd need to consider to make sure your next move is a perfect one. We offer FREE consultations with our expert legal team that can help you decide what's best to do.
For further personalised insights and guidance on downsizing, we welcome you to book a free consultation with one of our team by calling 0131 316 4444 or book online.
Book a free consultation with Neilsons here!