Around the UK, property market commentators are reporting that the UK is enjoying a "mini boom" as the pent-up demand held back by lockdown pours out into the market and turns into increased sales activity. Our Operations Director Jenna Spence, reflects on the current local market dynamics in Edinburgh and the Lothians and analyses the latest property market data from Neilsons.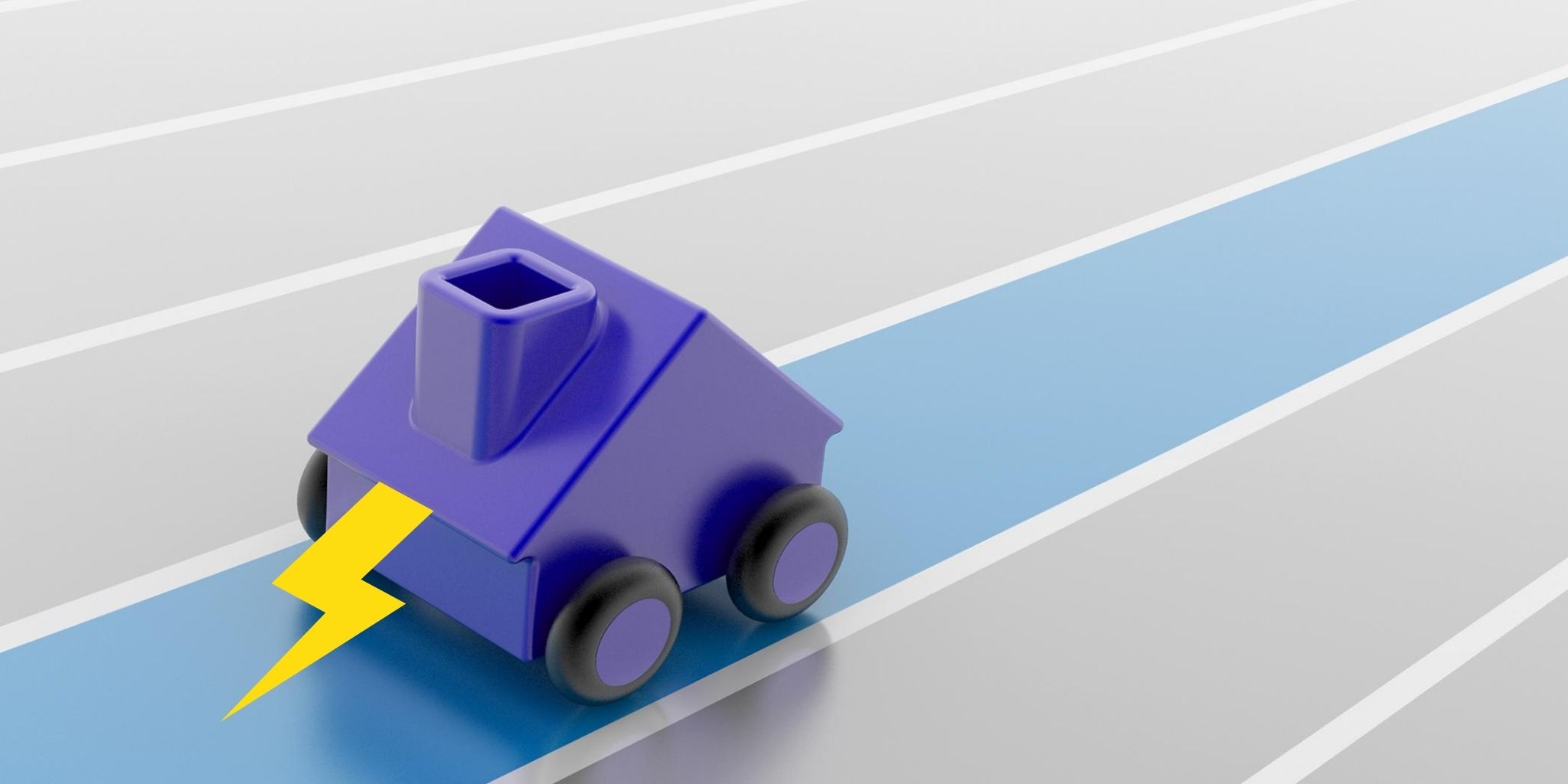 National analysis and future forecasts – as we regularly advise – need to be considered in that very vague and generalised context.
The truth is there is no such thing as the "UK property market". The UK is a patchwork of local markets each with its own dynamics. Individual local markets, individual streets and individual house types all perform differently and only a professional, experienced agent will be able to advise you accurately based on your own unique circumstances.
In Edinburgh and the Lothians,  the phrase "mini boom" does not seem to go far enough to describe the market activity right now.
In April, we wrote about the huge pent up demand bubbling beneath the surface in Edinburgh and the Lothians which we were experiencing at the forefront of local market activity – Neilsons remained open remotely during lockdown and didn't shut up shop.
We advised that during lockdown the property market effectively entered 'sleep mode' with the vital lockdown measures grinding to a temporary halt new to market properties whilst other commentators advised that the market had 'frozen'. We argued that this indicated a long thawing out or recovery process which based on our evidence at the time didn't seem likely at all for the local market.
The market is currently the hottest we have ever seen it in our Senior Partner's 40 years+ experience and the activity is completely exceeding pre-COVID activity levels.
Essentially, the Edinburgh and Lothians property market took a necessary pit stop, re-fuelled and took off again in a turbocharged manner. Much like the F1 drivers in the British Grand Prix at the weekend!
Let us now look at the activity levels we are seeing on the ground, and how these far exceed 2019 and pre-pandemic levels: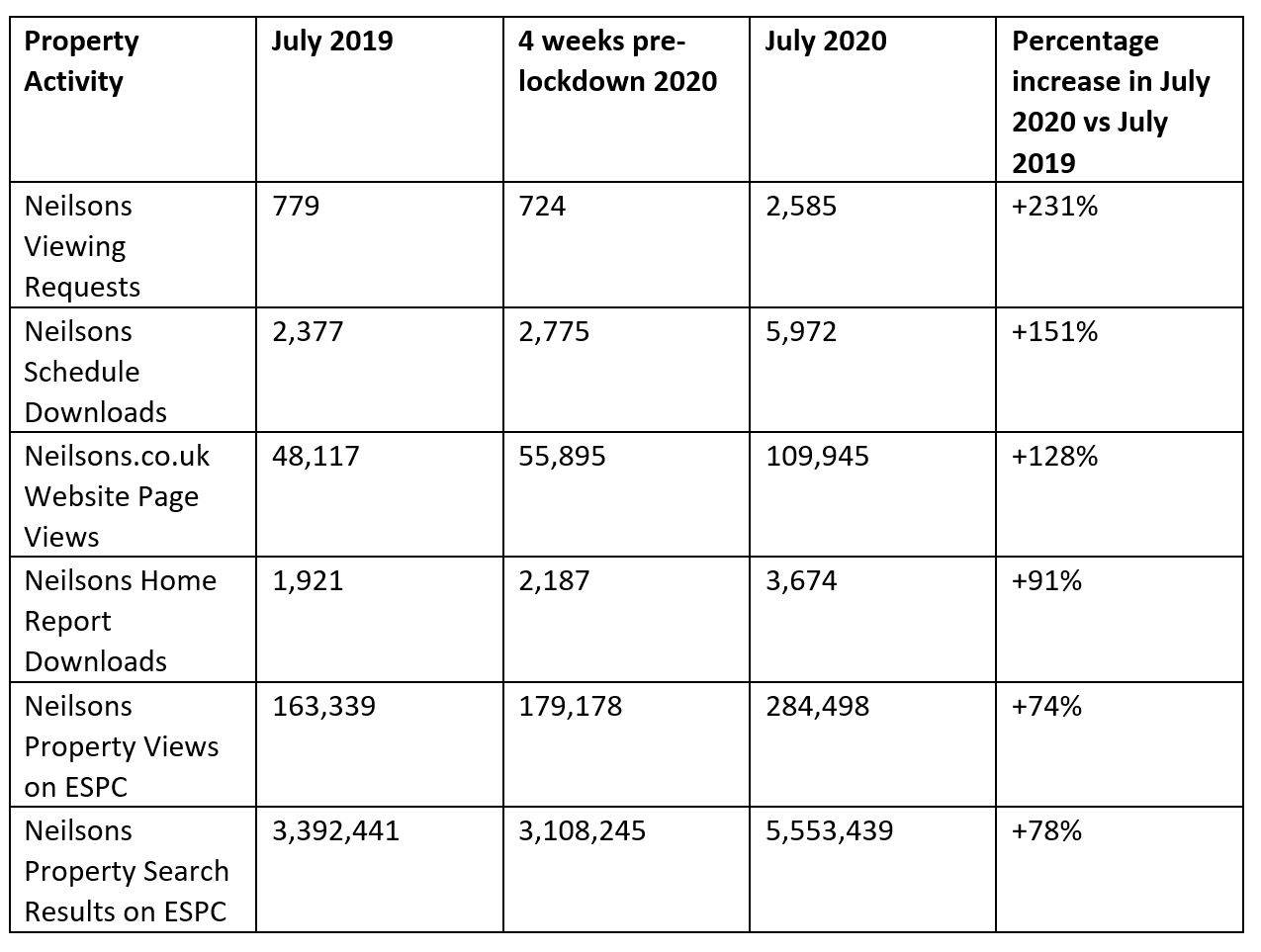 The importance of professional and digital marketing
These figures illustrate the staggering level of buyer demand and how the conditions are extremely favourable for sellers right now. Not only does July 2020 far exceed July 2019, but it completely exceeds pre-lockdown levels too.
Behind this flurry of activity, the pandemic has undoubtedly changed the way in which we do things in the property market for sellers, buyers and agents alike.
With home working continuing to be embraced by most to mitigate the risks that we still face from the pandemic, the digitalisation of the industry continues with haste.
Social media has well and truly positioned itself as a necessary marketing norm for the industry, with many buyers and sellers connecting with firms – and tracking the progress of property market activity – on the various platforms. But that said, not every agent is "up to speed"!
Neilsons have always been at the forefront of new innovations and technology and have been involved in social media marketing since 2011.
At Neilsons, we care about social media engagement and social media expertise. Our Facebook page is consistently ranked the most engaging by Facebook Insights for our industry in Edinburgh and the Lothians.  This means that our posts consistently get more comments, reactions and shares than all other agents.
With an emphasis on "virtual first", high quality virtual tours are now an essential component of property marketing (and an excellent one at that!) – our tours even enable buyers to measure up for furniture with accuracy using the tour. Since launching the product in March 2020, we have recorded 44,000 virtual viewings on this product. 
ESPC have confirmed that properties with virtual tours in place are generating 4 x the level of interest than those without, so this is simply a no brainer marketing essential! Feedback from buyers is overwhelmingly positive; they are enjoying being able to view and explore the property virtually, prior to committing to an in-person viewing.
In addition to more virtual tour and video views, the increase in schedule downloads compared to last year and also pre-pandemic is dramatic and suggests that buyers are doing more virtual research online than ever before. Therefore, it is important for sellers not to overlook the digital presentation of core components of marketing such as high-quality designed property schedules when marketing your property for sale.
Property marketing in 2020 has never been more important. If your property is well presented for the sale, accurately priced for the market and professionally marketed then the chances of a competitive closing date being set have never been higher. But you have to get it right.
Neilsons recorded more sales in the ESPC in July 2020 than any other member firm with just over 1 in every 8 properties advertised in the ESPC sold by Neilsons in July.
The market has really changed. With a turbocharged market – you need a turbocharged agent. 
Book a free pre-sale appraisal with Neilsons online here and learn more about our no upfront outlays and free sale marketing pack promotion saving up to £599!