With relaxations on house moves in Scotland introduced on 29th June 2020 after a long period of restrictions, the Edinburgh and Lothians property market is experiencing an unparalleled and remarkable surge in activity and buyer demand.
This week, EPPG have compared the last three weeks activity, with the same period in 2019, to illustrate the considerable uplift in activity.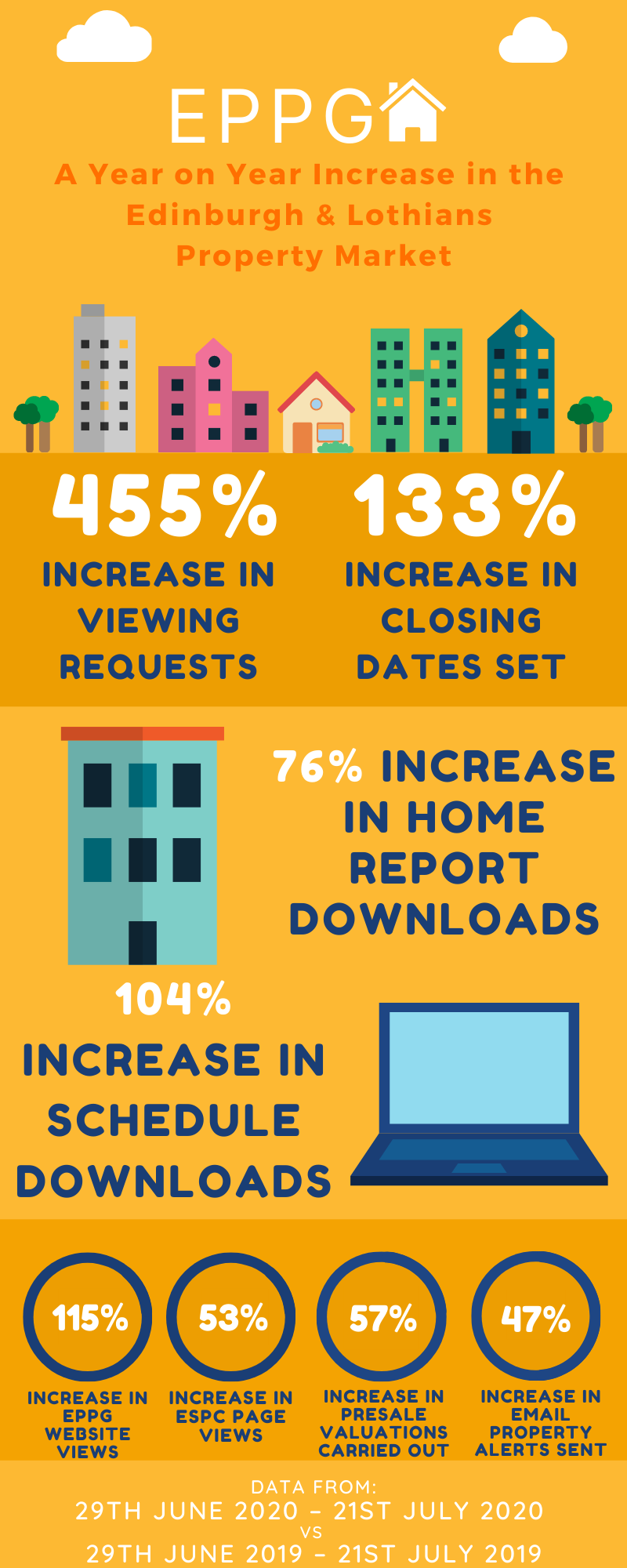 Stacey Wilson, Director at VMH Solicitors, said: "We've known from previous years that the Edinburgh property market is resilient but now we have the statistics to show just how accurate that statement is. With enquiry levels at an all-time high we want to make sure local sellers and buyers know there is activity across the board. EPPG firms have been on hand to guide our clients through these unprecedented times.
Our teams have been working extremely hard to ensure all transactions complete smoothly with the best results possible. With our expert advice we ensure clients are fully equipped to navigate the market and realise their goal whether this be to buy or to sell. Demand is high and expert advice is key to get you where you want to be. The systems and technologies in place across EPPG firms ensure huge benefits to our clients and our on-hand approach throughout this pandemic only increases our knowledge of local markets in real time. With pre-lockdown levels now exceeded there isn't a better time to get in touch with an EPPG firm to discuss your move. Tapping into the knowledge of a Solicitor Estate Agent sets you up for the best possible outcome from the strong market we currently have."
Laura Walker, Partner at Deans Solicitors and Estate Agents LLP, said: "The recent statistics collated by EPPG firms following the reopening of the Scottish property market at the end of June, speaks volumes as to the level of market activity and demand for property in Edinburgh & Lothians.
The significant increase in activity has been seen across EPPG firms who have worked throughout the lockdown period to support clients. EPPG firms have been able to meet demand thanks to their fantastic teams, who are working incredibly hard to maintain high levels of service at an unprecedented time.
The market is fast paced and thus expert advice essential, we are seeing plenty of closing dates and a flow of new properties coming to market, this stimulates competition and demand is high.
The opportunity to discuss a moving strategy with your Solicitor at the outset of the process is perhaps more vital now than it has ever been with so many new market dynamics to consider. I would urge prospective home movers to appoint a solicitor estate agent that will; listen, discuss, work hard for you and guide you through the complexities of the current market; to allow sellers to capitalise on the very real level of demand and for buyers to help navigate this new market. "
Jenna Spence, Operations Director at Neilsons Solicitors and Estate Agents, said: "Our Senior Partner who has been practicing for over 40 years has confirmed that he has never seen the market as hot as it is just now in all his years' experience.
At Neilsons, like the rest of the EPPG, we have seen a dramatic increase in demand with a remarkable increase in viewing requests, home report downloads, schedule downloads, page views on our own website, the various property portals we advertise on and property matching email alerts to buyers. In addition, since launching our 360 virtual tour product in Spring, we have recorded over 33,000 virtual viewings.
EPPG have been here for our clients throughout the pandemic and we have been ready and able to hit the ground running with the increased activity levels. Because we remained open and available to clients over lockdown we developed the systems and expertise to enable us to perform safely and effectively in a busy, but fundamentally changed, property market.
The key standout figure for sellers should be the big increase in closing dates being set. This underlines the increased demand for properties in the local area. If the property is well presented for the sale, accurately priced and professionally marketed then chances of your property having a closing date set whereby interested buyers submit their best offer in a blind bidding process is at an all-time high. There has never been a better time to sell your property to take advantage of this unprecedented demand.
I would also recommend when deciding to choose an agent to sell, that you ask the agent how many properties they have had going to a closing date recently. It is always important to know this, so you know that you are choosing an agent that is driven to achieve the best selling price possible for your property and not just the first Offer that is received. The best agents will always negotiate the best price for your property using their experience and expertise.
The good news for buyers is that we have also experienced an increase in valuation and appraisal requests with more properties lined up to market than ever before, even compared to previous busy Spring periods in any other year. In addition, the new changes to LBTT running until 31st March 2021 is welcome news for buyers moving forward."
Book a free telephone or video consultation with Neilsons online here