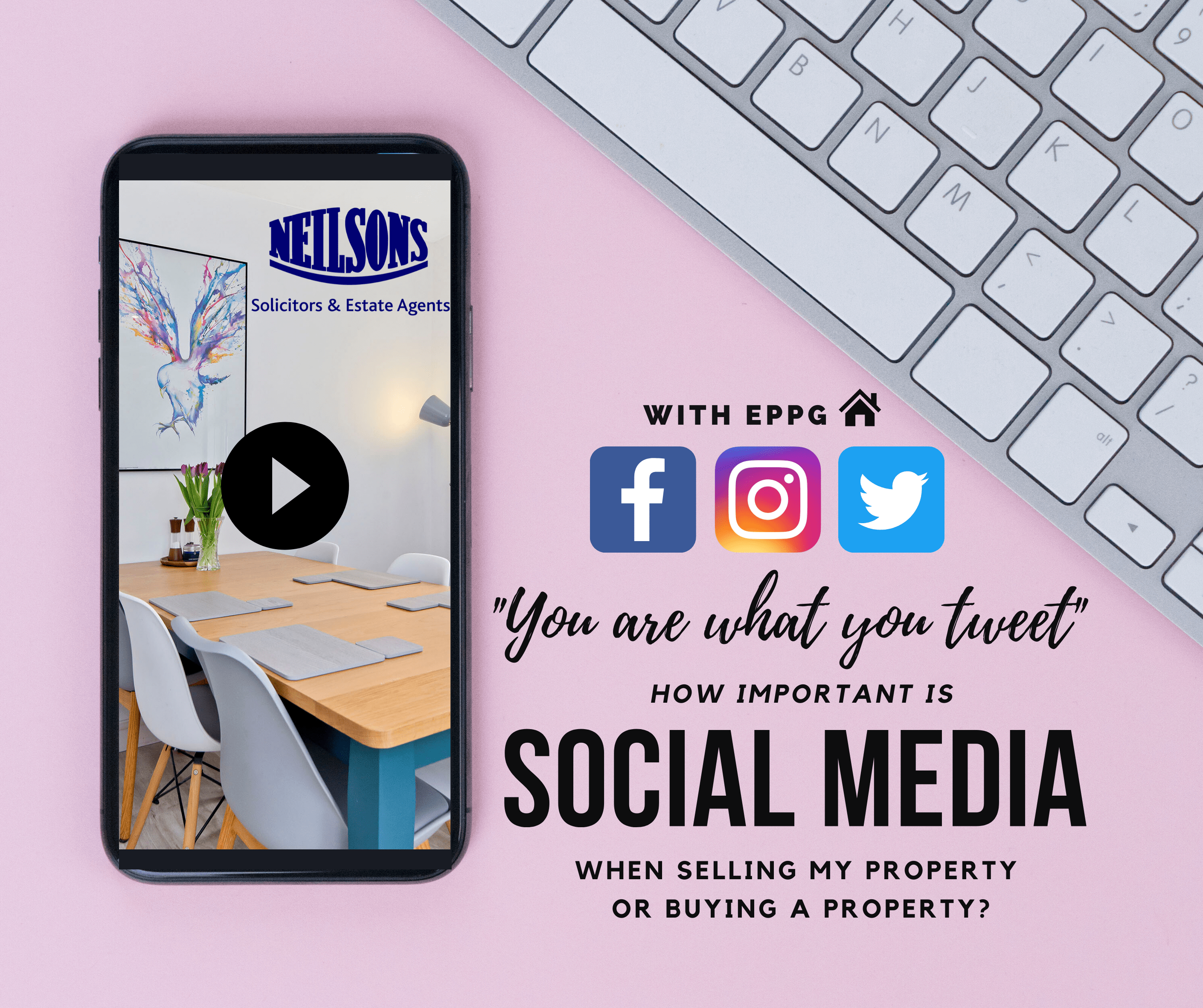 Recent events have changed not only the goal posts but the entire playing field.
Social media, once a nice extra marketing tool for many businesses, has become a core component of marketing – particularly property marketing – almost overnight.
All EPPG firms have active, engaging and pro-active individual profiles on platforms such as (but not restricted to!) Facebook, Instagram and Twitter and have seen engagement and activity rise considerably since lockdown. Collectively, our social media posts have been seen by 798,311 users since 23rd March 2020.
Here, we will explain the differences in the facilities offered by the different social media platforms and how each has an important and increasing role to play in a fast-changing property market.
Facebook, which also owns Instagram following a $1billion takeover in 2012, has reported in the past month users across all platforms have reached 3billion – a record for the powerful platform.
The social media landscape has evolved rather rapidly over the past ten years or so. Prior to social media, it used to be the recommended marketing strategy of many property professionals to list a property for sale in the local paper to "increase exposure" and raise the profile of a property. Whilst it didn't necessarily reach a captive, targeted audience, it was intended to catch the interest of readers who were undoubtedly "turning the pages" of the publication over a morning coffee.
Fast forward ten years, and the same basic principles apply to social media, but in a different digital way. There is a huge and still growing audience on social media, and whilst print publication has been in decline, digital audiences have increased, and businesses can – with the right skills and expertise – capture the interest of users who are "scrolling their feeds" over their morning coffee instead and "increase exposure" that way!
Activity on social media since lockdown for EPPG Firms
On Facebook…
We've posted 256 times reaching users screens a staggering 568,485 times!
On Twitter…
We've posted 257 times, with 419 likes, 616 retweets and our tweets showed up in Twitter timelines 207,400 times.
On Instagram…
We've posted 175 times, receiving 1,705 likes for our content, reaching 22,426 Instagrammers.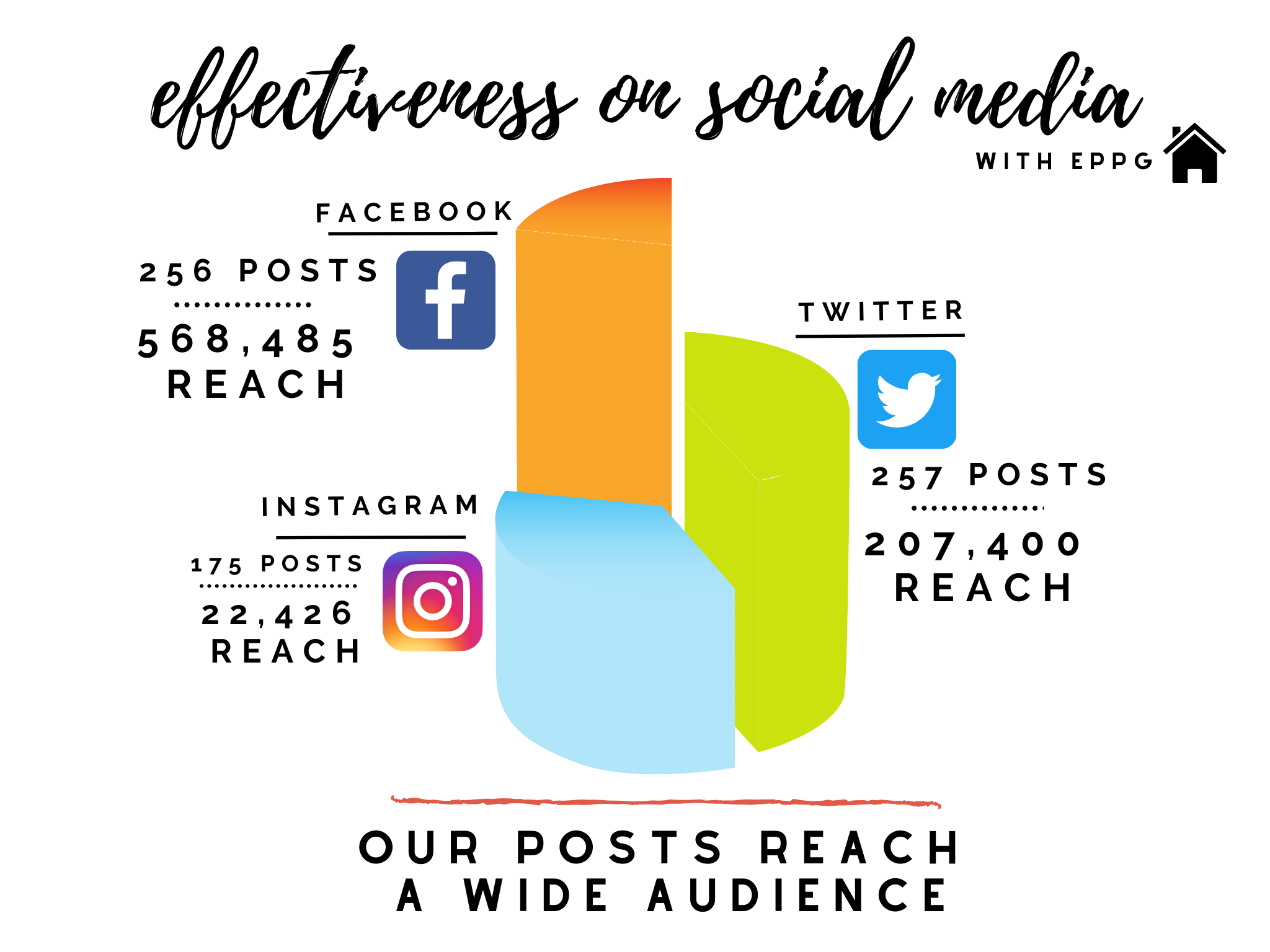 What's the difference between Facebook, Instagram and Twitter?
There are 7.6 billion people on the planet, and 3 billion of them use Facebook.
With nearly two thirds of the World population on Facebook, who isn't Facebook's target market?
To say that everyone is Facebook's target market is not an understatement, however, there are some slight differences when digging into the demographics. It's slightly more popular with women, than men (74% vs 62%) and whilst the platform is more popular with younger adults (as is the same with most social media platforms), it is the social media platform most popular with older adults. In the 50-64 age group for example, 65% are on Facebook as are over 41% of those 65 and older. Let's face it, you are most likely to find your Mum and Gran on Facebook than Instagram and Twitter!
With Twitter, things are a little bit different. It's a micro-blogging service that gives you access to wide, fast moving and developing content in short and quick formats (you are restricted with character limits for each tweet to keep it all succinct). If you want to keep up with the latest – sometimes contentious or controversial – missives from World Leaders and musings from celebrities as well as other news, you will find this on Twitter. Men and women use it equally. Similarly, like Facebook, its users are skewed towards younger demographics. 45% of those aged 18-24 use Twitter, 33% of those aged 25-29, 27% for those aged 30-49 and 19% for the 50-64 age group. It's most popular with University graduates and those that live in a city, too.
Young people cannot seem to survive at all without Instagram. The social network which focuses visually on photo and video sharing is especially popular amongst 18-24-year olds. Instagram also allows users to add nice filters to their photo and video content which is appealing and can be activated at the simple click of a button. 71% of those in the 18-24 demographic have an Instagram account. In the 25-29 age group, 54% have an account. 40% in the 30-49 age group use Instagram, and 21% for those 50-64. Facebook, who purchased Instagram in 2012 for $1billion, report that 500 million people use Instagram every day and it is now worth an estimated $100billion.
Whilst all social media platforms are popular, they are popular for different reasons, and attract slightly different audiences. Most young people however use a combination and are often on all major social media platforms when not on TikTok (that's a platform for another day, not relevant to property marketing!).
What is undeniable is that these are huge markets with growing audiences, accessing the platforms, daily and for many users, at regular hourly intervals. These are also a considerable percentage of local buyers and sellers in Edinburgh.
Why would you not choose a Solicitor Estate Agent that has a wide, and engaged, audience on these platforms and can promote your property on these platforms as part of their service to attract interest and buyers? Of course, there are inexpensive but effective marketing boosts you can apply to your listing in a paid-for capacity (and we will be happy to discuss this with you) but EPPG firms do not charge for promoting your property organically on social media.
Informers vs Meformers
EPPG firms work hard to create and release informative, relevant, innovating and eye-catching property content as well as always acting in a pro-active manner. This is why we formed the Edinburgh Pro-Active Property Group. Whilst we are competitor firms, we also recognise the value in sharing expertise and advice and wanted, at this difficult time, to collaborate helpfully to benefit the Edinburgh and Lothians house buying and selling public by providing advice, statistics and relevant information from those at the forefront of property activity in the market currently.
So… what's a "meformer" by comparison? This is a user or business who just posts social media updates relating to themselves. That's not our style.
Don't overlook social media as part of your future property marketing strategy, and make sure you choose a firm with an established presence, and the right marketing expertise, that can get it right for you.   
Get in touch for helpful and friendly advice and don't forget to check out our social media pages and follow us!
Neilsons on Facebook, Neilsons on Twitter, Neilsons on Instagram 
Book a free telephone or video consultation with Neilsons online here
Sources and data used when creating this article:
Sources 1-12 have a distinct search period of 23.03.20 – 13.05.20.
Neilsons: Facebook Insights.
Neilsons: Instagram Insights.
Neilsons: Twitter Analytics.
Warners: Facebook Insights.
Warners: Instagram Insights.
Warners: Twitter Analytics.
Deans: Facebook Insights.
Deans: Instagram Insights.
Deans: Twitter Analytics.
VMH: Facebook Insights.
VMH: Instagram Insights.
VMH: Twitter Analytics.
Pew Research Center. "Social Media use in 2018: Appendix A: Detailed Table."
Pew Research Center. "Social Media use in 2018: Substantial 'reciprocity' across major social media platforms."