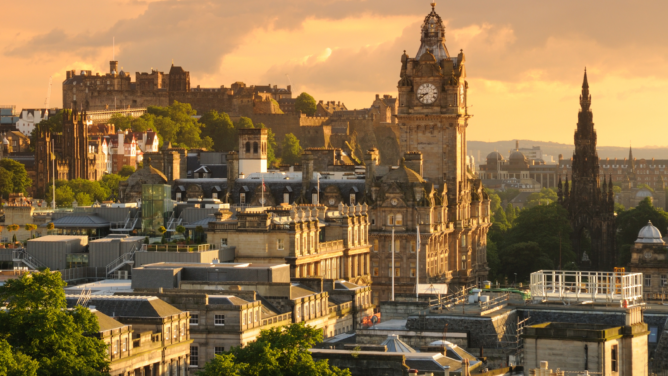 What a week! Our firm was established in 1977 so this is not the first time that we find ourselves working against the backdrop of economic uncertainty. Over the decades, Neilsons have faced down a number of economic storms and, in recent years, have navigated our clients through Indy Ref, COVID-19 and Brexit. We now find ourselves facing the effects of last week's Mini-Budget and its particular impact on the mortgage market. See our blog about what happened earlier this week here.
As the week has gone on, we and many other ESPC agents are alarmed at the hysteria which is being played out in the mainstream media with their sensationalist headlines and crystal ball predictions. This is very much at odds with our own working experiences over the previous seven days.
Let us be clear, there is no financial crash similar to what we witnessed in 2008 with the world banks finding themselves penniless. Rather, we are witnessing the banks manoeuvring around the current uncertainty driven by UK Government fiscal policy – a move from the lenders which is rooted in risk management.
 So what is happening on the ground?
As reported by Moneyfacts yesterday (Thursday 29th September 2022), there were 2,340 residential mortgage deals available to applicants. This is far fewer than the 5,315 offered this time twelve months ago.
Each UK lender has its own lending criteria and will apply their own risk assessment to the mortgage products they offer. As such, each bank seems to have opted to take their own individual approach to the ongoing uncertainty. For example:
HSBC is removing new-business residential and buy-to-let mortgage products
Santander has removed all 60% and 85% loan-to-value mortgages to new customers
Yorkshire Building Society and Atom Bank have withdrawn all products to new customers
Nationwide has applied a rate increase for a swathe of their fixed-rate products
Much of the economic anxiety of the last week has stemmed from the fact that banks have withdrawn products. Much of the reporting omits the fact that this is a temporary withdrawal. The banks are by no means in peril. However, due to wider market volatility and confusion in respect of the Bank of England base rate, they are unable to accurately price products to their customers.
According to BBC News, the Bank of England will not adjust the base rate until after their scheduled meeting on the 3rd of November, so it might take until then for the new mortgage products to be released.
The actions of these lenders are simply their assessment of the risk caused by a fluctuating market. This week, we have seen the Bank of England step in and purchase billions of pounds in bonds to settle the market. Once the market reverts to a more normal state, there will be a resumption of the mortgage products previously available, albeit likely at a slightly higher rate of interest meaning there will be an increase to the monthly repayments of customers.
The same approach was taken by the banks in response to the COVID-19 outbreak and subsequent lockdown. The property market thereafter proceeded to have one of its busiest years on record. We at Neilsons had our most successful year in our long history, despite being unable to process transactions for most of the first six months of 2020. This reflects how the mood of the market can change drastically and the success of the market is rooted in the confidence of its stakeholders.
We as a firm have closely monitored our activity in regard to viewing requests, offers, closing dates and withdrawals from transactions. The firm notes only a handful of withdrawals from sale or purchase transactions across our various offices as a consequence of the lending situation. Activity levels have remained buoyant with requests for property viewings actually up to 328 compared to an average of 303 per week for the five preceding weeks. We've received 46 offers for properties since Monday, just two offers fewer than the preceding five weeks and we've had 59 new Notes of Interest compared to an average of 57. So it's clear to us that there are still a large number of motivated buyers looking to secure a new property and with 100 new properties listed by Neilsons this September there is still plenty of choice.
Aidan Tuohy is one of our Partners in our Head Office on St Johns Road and commented on the situation:
"It has been a testing week with ill thought out fiscal policy resulting in the public confidence in the property market taking a sizeable dent. However, much of the reporting is at odds with what I have personally witnessed. Much of my time this week has been spent attending to clients' concerns about the changes and ensuring they receive the best mortgage advice available with a Neilsons recommended broker. I have presented dozens of offers this week and presented offers considerably above valuation at closing dates.
"I have secured and sold properties for clients this week and overseen the completion of 24 settlements within my team alone. The reality on the ground is a far cry from reports in the wider media.
"Much of the talk and alarm involves discussions of a 'UK-wide property market.' This is misleading. Property markets in the UK differ from region to region. Edinburgh as a finance and business hub, and an affluent and desirable area to live, has always fared much better than other parts of the UK. We have weathered many a storm over recent years and we are quite comfortable that this situation will resolve itself in time.
"The Scottish Government this afternoon has offered assurances that they will not be looking to mirror the tax changes down south and we continue to operate in a buoyant and exciting market.
Speak to the experts.
If you have any worries about the current situation then we recommend that you speak to your Residential Conveyancing Solicitor in the first instance to discuss your circumstances and anxieties. Your solicitor operates at the coal-face of the market every day and can provide you with a real insight in terms of how the market is operating in light of this ever-changing set of circumstances.
Have an awareness of the mortgage market.
Each lender sets out their own products and simply going to your own bank for a mortgage may result in you being offered the best deal that particular bank can offer. It is always recommended that you speak with a broker who has access to all UK lenders. One bank may have withdrawn a product, whilst there are many others that are offering the same product at a different rate. By using a broker, you can ensure that you are obtaining the best possible mortgage deal available. A broker will also attend to the laborious task of applying for your mortgage with the bank, removing a lot of the pressure from clients and ensuring transactions proceed quickly and smoothly.
We at Neilsons are on hand to assist you with any concerns relating to buying, selling, re-mortgaging or obtaining a mortgage generally.
Please contact our award-winning team today. We would be delighted to assist.
Call us on 0131 316 4444 or book a free no obligation consultation on our website today.
Book a FREE telephone consultation with Neilsons here!