Save up to £599 with Neilsons Solicitors and Estate Agents in Edinburgh this year!
…Extended by popular demand!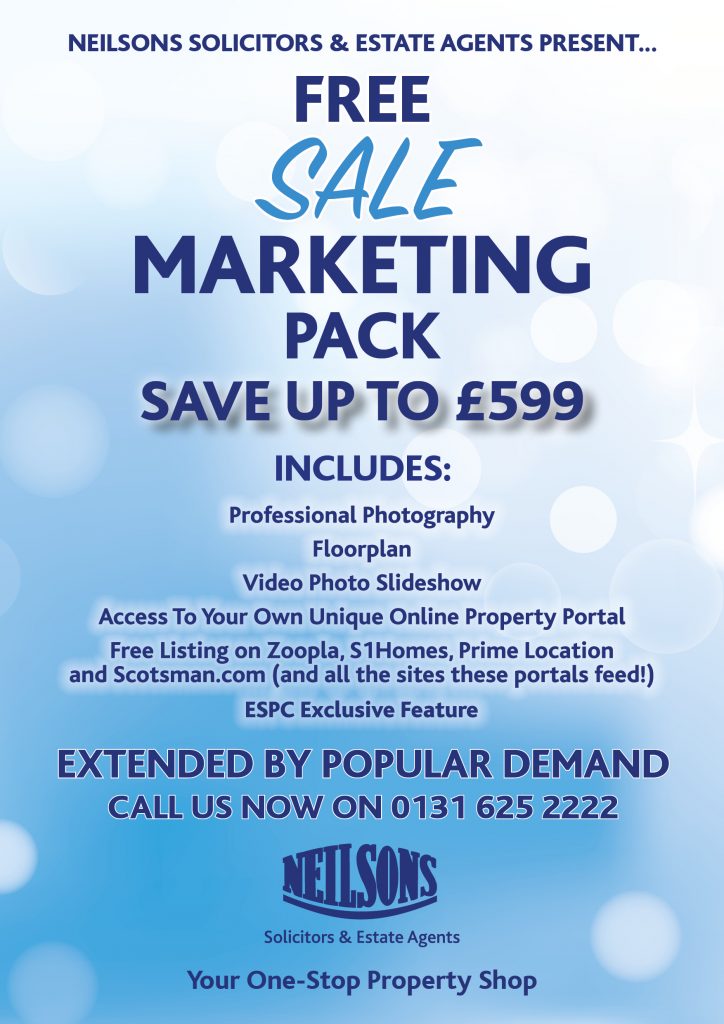 We are delighted to announce that we have extended our fantastic sale promotion and clients instructing Neilsons Solicitors and Estate Agents – recently awarded Scottish Agency of the Year at the Negotiator Awards – will not only benefit from no upfront outlays with absolutely no catch or 'admin fee' but also benefit from our FREE Sale Marketing pack saving up to £599!
What's happening in the property market at the moment?
The property market is hot! 2019 was phenomenal for property sales, with market activity at pre-recession levels; closing dates the norm rather than the exception, and excellent prices being achieved if the property is well presented and professionally marketed.
We are actually in a situation where there are not enough properties coming on the market to cope with the demand which is driving up the sales prices being achieved. We have thousands of local buyers on our Estate Agency database, ready and waiting to purchase, that have missed out on properties this year and are ready to buy (often competing for the same suitable properties!).
As the market is so hot at the moment, why not take advantage and sell your property with Neilsons in 2020?
Why Neilsons?
We offer smart estate agency and legal services with the service to match and are selling properties very quickly (in just 19 days on average). 
Aside from our fantastic promotional offers, you can count on us to provide a highly professional service. Don't just take our word for it. We are a highly rated firm on Facebook. Check out Facebook reviews left by genuine Neilsons clients on our Facebook page by clicking the image below:

Neilsons Solicitors and Estate Agents Facebook Reviews