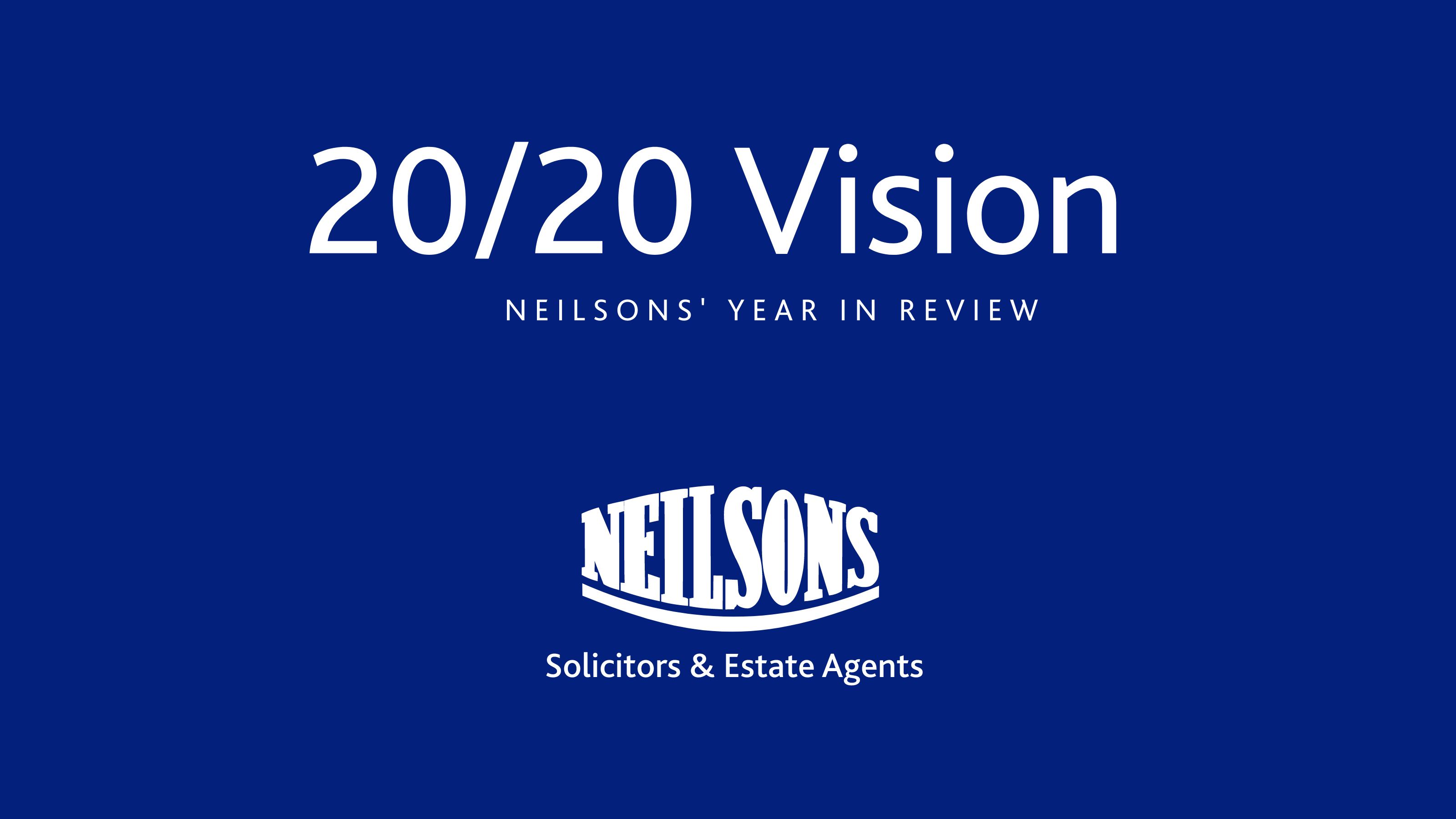 The "Spotify Wrapped" playlists are out, the halls are decked, and we are now in a position to review the East Central Scotland property market through a Neilsons' lens – one of the top selling ESPC member firms and founding 2020 EPPG member firm.
Firstly, here are some of Neilsons' 2020 highlights, which show what we have achieved despite the challenges that the pandemic brought:
Over 150,000 360 virtual viewings (a new feature pioneered by Neilsons in 2020) recorded since spring
901 properties listed in 2020 – a 33% increase on 2019 listings
19 days on average until properties marked as 'Under Offer' – same as 2019 despite the delays resulting from the pandemic
935,000 website page views – 555,800 in 2019 – a remarkable increase of 70%
Over 1,500 posts and tweets on social media – the top performing ESPC member firm in terms of social media engagement
Neilsons win 'Residential Property Team of the Year' at the virtual Scottish Legal Awards in November
"What has happened in 2020" is a question we are asked frequently and there is a lot to digest, so grab a coffee and we will take you through 2020 quarter by quarter.
January – March
In the first quarter of 2020, the local property market took off where it left off in 2019 – busy and dynamic.
We wrote about the early activity in January here, when Edinburgh was confirmed as the top city in the UK for house price inflation over the previous 12-month period with house prices rising 6.1% in the capital. We also advised that despite political commentary surrounding Brexit, the East Central Scotland property market had so far remained largely unaffected at that point, a situation that has continued throughout the year (- but more of that later).
Over the quarter, Neilsons recorded 120 sales, an increase of +6.2% on the previous year with average selling prices up +2.3%.
We also listed 186 properties during this first quarter of 2020, which was an increase of +12.5% on 2019 and March showed a nearly +25% staggering increase in new listings.
We kept our clients informed at every stage of the COVID-19 developments in March, and our well-thought out and planned contingency plans, through various e-newsletters.
Neilsons had set up the systems and developed the expertise to enable home working and ensure we were able to operate in the new virtual reality.
Things quickly came to a sharp halt on 23rd March 2020 as the Prime Minister announced a UK-wide lockdown to understandably curb COVID-19 infections and help protect the NHS. The lockdown brought a sudden stop to properties being marketed and transactions settling unless in very exceptional circumstances.
Reflecting on March, it really was an incredible couple of weeks of contrast.  We were still witnessing hectic activity on both sales and purchases with closing dates for many of our sales properties and our purchase solicitors were kept busy with most properties that our clients are interested in going to closing dates.  This was all against a backdrop of challenging times with the effect of COVID-19 on day-to-day activity and demonstrated early on the incredible resilience of the local property market.
April – June
In early April, Neilsons released our first lockdown blog: the virtual reality of the property market where we advised early on how firms like Neilsons had the systems and expertise to adapt quickly to the new virtual reality of the local property market.
We were one of the first firms to develop a virtual viewing 360 tour product.
During this time, Neilsons, along with three other major players in the property market; Warners, Deans and VMH founded the 'Edinburgh Pro-Active Property Group'. Collectively, we represent over 25% of sellers advertising in the ESPC. The EPPG pool their resources and share their experience so that they can release regular, authoritative bulletins and statistics showing what is actually happening in the local property market.
With the challenges that the COVID-19 pandemic posed for the property market, as well as the wider economy, we wanted to work together to provide informative and relevant information on property market activity collectively from our firms which remained open remotely, continuing to provide a service to our clients.
When the furlough scheme was announced, many firms elected to effectively shut up shop completely and furlough all staff, but we noted early on that there was a groundswell of demand from clients for information, advice and services and we provided extensive guidance on how to keep moving whilst operating in a safe environment, following all government guidance.
We are proud of the fact that we worked hard to release relevant content and statistics to the local house buying public.
The demand for our services during those dark days was clearly evident. During the first two weeks of lockdown, we recorded over 653 enquiries by email, telephone call or social media, 70 Offers for properties for sale (many of which were subject to a future-in person viewing) and 1,674 Home Report downloads indicating the groundswell of demand from clients. Early on, we recognised that despite the pandemic and the issues surrounding it, the Edinburgh and Lothians property market was showing signs of incredible resilience once again.
You can read our first blog here.
We released numerous  blogs reflecting on everything from first time buyer schemes, to social media marketing, and the safe but progressive route out of lockdown.
In total, EPPG have released 18 helpful blogs in 2020!
At the end of April, our Operations Director Jenna Spence asserted that "the property market may be sleeping, but there is huge pent up demand bubbling beneath the surface". Jenna believed it was misleading to say the property market had frozen like many commentators were at the time, as this suggested a long thawing out process, which did not seem likely at all based on activity levels that Neilsons and the wider EPPG were recording. At this point, Jenna confirmed it was not a matter of "if" but "when will" the property market awaken from its necessary slumber.
In May, Neilsons were the first firm to record an increase in property market activity following the English property market re-opening in May but Scotland had to wait for over a month later to re-open.
On 29th June 2020, the Scottish property market was able to re-open more fully again with appropriate safeguards in place after 13 full weeks of lockdown.
July – September
Boy, did the market take off. The market activity that we commented was "bubbling beneath the surface" was akin to a volcano about to erupt! We knew it would be busy, but the demand was simply off the charts during this period.
Pent up demand drove the market in the very early stages, and during Q3 Neilsons listed 390 properties – a 103% increase on 2019 Q3.
During this time, ESPC recorded an 8.1% increase on average selling prices, compared to the same 3-month period in 2019.
The First Home Fund was open for applications during this time, which gave successful first-time buyer applicants up to £25,000 towards their first purchase and there was considerable activity in the market from the base up.
On 15th July, the Scottish Government announced an LBTT (stamp duty) 'holiday' which gives all buyers a saving on LBTT of at least £2,100 until 31st March 2021 provided ADS (additional dwelling supplement is not payable). This is an attractive reduction for buyers.
Overall, Q3 2020 was the busiest quarter Neilsons have experienced in 43 years of business.
October – December 
The buoyancy of the local market continued well into Q4 despite the First Home Fund closing for new applications in 2020 on 2nd October 2020 (it re-opens again on 1st April 2021).
During this quarter, we moved beyond pent up demand with many sellers and buyers re-assessing their home needs. Now, more than ever, buyers are prioritising space, location and are factoring in changed working patterns. Less time spent socialising in-person with family and friends reinforces the importance and requirements of the home environment in which we are spending more time in than ever before. The wish list often includes a home office, a garden and a good internet connection. The move to home working may be permanent for some and with good communications, properties in areas remote from Edinburgh have seen an upsurge in demand, whereas a short commuting distance may be less of a consideration.
During this time, and up until 18th December 2020, we have listed 285 properties – up 109% on 2019 Q4.
ESPC as a whole have recorded an increase in average selling price of +10.2% during this time, compared to October – December last year.
As the First Home Fund was stopped on 2nd October 2020 (re-opening 1st April 2021), there has been a slight cooling of demand at entry level so during this quarter we are seeing some fixed prices for the first time in a long time, but we are still witnessing the majority of good, well presented properties going to a closing date and high prices being offered.
In previous years, the market cools down as we approach the Christmas and New Year period, but there is no evidence of seasonality influencing the market this year because of so much ongoing demand from buyers.
There seems to be a rush to take advantage of reduced LBTT rates which will continue to stimulate the market until 31st March 2021. Normally you would expect to see a cooling of activity when normal rates are reintroduced, but at this point, the First Home Fund re-opens for new applications on 1st April 2021. This will stimulate the market again from entry level up as the domino effect comes into play.
During this quarter, on 4th November 2020, Neilsons won Residential Property Team of the Year at the virtual Scottish Legal Awards 2020. We are delighted to be recognised as both Scottish Estate Agency of the Year and Residential Property Team of the Year!
News of Coronavirus vaccine effectiveness during this quarter has seen the property market hold steady to buck traditional seasonal slowdown trends that are usually evident at the end of November and into December as we approach the festive season.
What's on the horizon? 
We discuss this in detail on the EPPG blog, which you can view here.
Many early reports by national estate agencies predicting house price reductions in 2020 have so far failed to materialise. By contrast, the local Edinburgh and Lothians property market has had its most remarkable year despite the COVID-19 backdrop, and we expect this to continue into 2021.
Pent up demand, re-assessed housing needs and incentives have helped to over-stimulate an already dynamic and busy local property market.
The World has had to adapt and innovate very quickly to the ever-evolving COVID-19 situation and Firms such as Neilsons with specialist systems, and extensive website exposure coupled with an effective social media strategy and innovative features will continue to drive the market forward in 2021.
Book a free telephone consultation with Neilsons online here